The Year DevOps Leaped to the Center

At the beginning of 2020, none of us could have imagined what we would be talking and thinking about at the end of the year. 
At JFrog, we began by talking about unifying everything in the DevOps lifecycle. Of course very quickly, the message of unity and togetherness would soon become even bigger than we could imagine in light of the global pandemic.
As I think back on the year and look forward into the future, I wanted to briefly share a few key milestones with you that made 2020 an unforgettable year at JFrog – and of course in the world.
Digital Transformation, Accelerated
The pandemic that affected everyone's daily lives also highlighted the need for secure, efficient, reliable, hybrid DevOps across the globe. We all know software already ate the world, but the pandemic truly crystallized DevOps as the delivery epicenter of most companies. 
As work became remote, we were all forced into a digital transformation rapidly, sometimes compressing what had been years-long transition plans into mere weeks. Without robust, end-to-end tools and processes that flexed the way companies were working, delivery became impossible. Many of these trends will continue on following the pandemic recovery, likely changing businesses forever.
---
The JFrog Platform Difference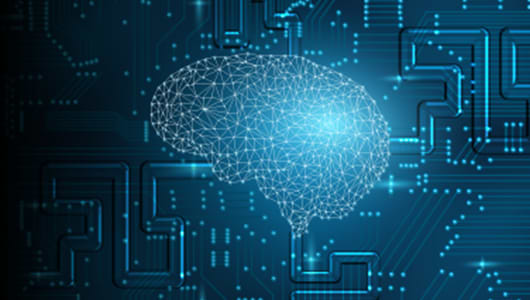 With this year's release of the JFrog Platform, we introduced the world's first end-to-end, fully hybrid, universal DevOps platform. Why? Developers have more demands placed on them than ever before. Deliver faster. Incorporate security. Innovate more. Reduce costs… the list goes on. 
To do this, the global community of Developers and Ops engineers need an end-to-end, natively-integrated platform that incorporates package management, security, CI/CD, distribution and administrative functions in a single solution.
Always listening, we brought our collection of industry-leading DevOps tools together into a complete, unified platform with a single goal: to support your development pipeline as you build, secure, and distribute your universe of software packages. 
For the first time, the industry has a complete, end-to-end, fully universal, hybrid, flexible DevOps Platform to meet the challenges of modern DevOps in a cloud-native world. We're very pleased with the year's adoption of the Platform and look forward to greater innovation in 2021 as we continue to listen and deliver.
---
The World Notices Software Packages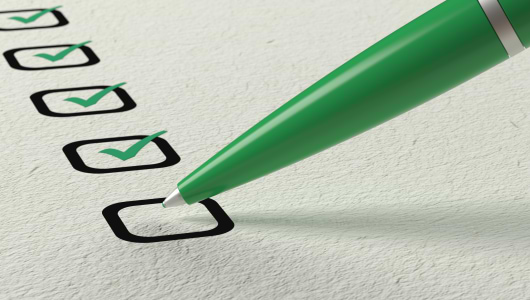 As the old saying goes, "imitation is the sincerest form of flattery." While that may be true, we're excited to see how more companies are showing support for a package-centric approach. 
I'm proud to say that JFrog has been in the software package business from day one, having introduced the world to a binary repository concept over a decade ago. It's validating to see companies looking to mimic what we have known for years: packages (a.k.a. binaries) are not only what you consume from open source hubs, but also what you build, pack, secure and deliver as the ultimate value for your customers in any production environment. More innovation will come in these areas from JFrog in 2021 – stay tuned.
---
The JFrog IPO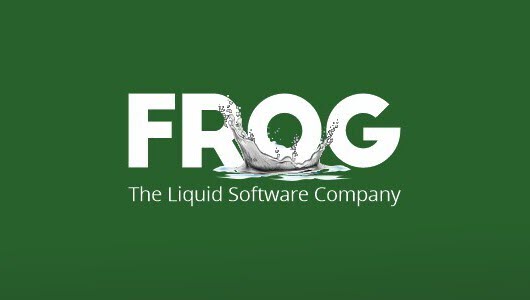 We were humbled to make the tech headlines in September as we joined the NASDAQ family, but this move also highlighted an important DevOps industry milestone: JFrog is the first pure DevOps company to be listed on a public exchange (NASDAQ:FROG). 
This signifies and solidifies the evolution of software organizations from siloed, inefficient groups into end-to-end delivery machines producing software that flows from developers to end users as seamlessly as possible (our Liquid Software vision). 
I couldn't be prouder of the Frogs, the builders who have worked so hard along the way to meet this amazing milestone. We look forward to greatly enhancing the marketplace with new solutions and innovative business moves that validate our approach in 2021.
---
Supporting the Community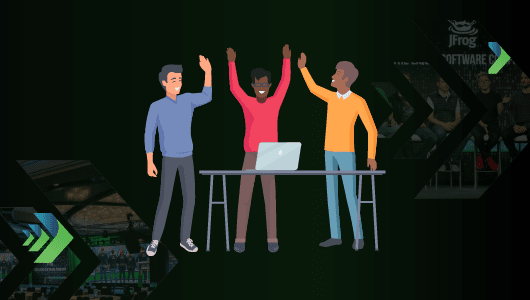 JFrog is nothing without the support of the DevOps community. They drive us to be better, they help guide our decisions and they're quick to tell us when we have an opportunity to serve them more effectively. For them, we launched a free community cloud offering of the JFrog Platform for the first time in 2020 – available on any cloud provider. The offering includes JFrog Artifactory, JFrog Xray and JFrog Pipelines, delivering universal package management, security and CI/CD in a free, multi-cloud DevOps environment. We wanted developers to be able to manage their DevOps and DevSecOps workflows without limitations, and we're proud to continue to give the "Switzerland of DevOps" back to the community. (Go try it, if you'd like!)
---
Innovation and Recognition in 2020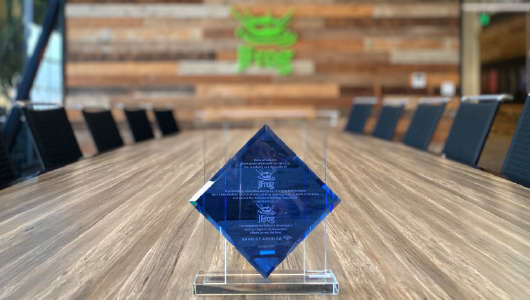 From the start, innovation has been a core value of JFrog, and it's achieved through the passion of our employees to solve customer and community challenges. Our R&D teams worked tirelessly to not only unify our products and provide a complete platform for customer innovation, but also to increase the value customers received. For example, providing new solutions for highly-regulated industries with air gap support for Distribution. Peer-to-peer sharing was delivered to ensure global teams stay in sync efficiently and rapidly. New communities and package types were served across the Platform. And none of this went unnoticed in the market; we were humbled to be recognized by Forbes in the Cloud 100, SD Times, the DevOps Dozen, Deloitte and more with industry awards and recognition. These are all as a direct result of listening to customers and partners, while delivering on what we promise.
---
Once You Leap Forward, You Won't Go Back! What's next?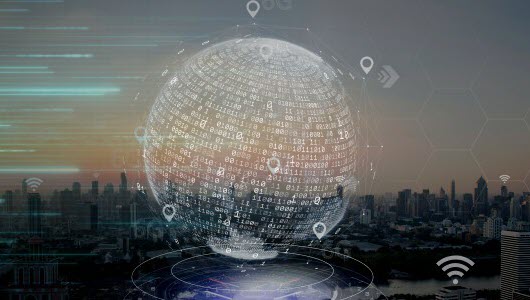 We're continuing to invest in organic and inorganic growth possibilities as a company to fuel our software package-centric approach to DevOps and DevSecOps. Here are some things you can expect in 2021:
Continual obsession about universality

will drive us. We already offer the greatest universal technology support, and we'll be adding even more to help you consolidate across your organization.

Fearless DevOps means DevSecOps

is seamless

.

It's in our DNA.

We'll continue  to support cloud-native technologies, and to focus on a full DevSecOps pipeline all the way to containers and runtimes – making sure it's well automated within the CI/CD flow, ensuring that security is not slowing down your business

More deployment choices for your multicloud reality

are coming

.

Expect support for more cloud providers and additional regions. We want JFrog to be provided as a service wherever you need us.

Enhancing the only package distribution solution

will be a major focus. Our customers clearly need a "full circle of trust," making sure that the packages are not just being built but also distributed and deployed at the edge. We're committed to solutions for software package distribution all the way to runtime.

CI/CD and automation

are core focus areas. As the world transforms from a GitOps to a "BinOps" (binary-based operations) approach, we see a world where software packages are the primary asset in your

DevOps pipeline

, and we're focused on integrating JFrog with your CI tools and improving your CD experience at all stages. 

Too integrated to fail.

It's a mantra, but hyper-important. Our ecosystem philosophy is all about giving the user the ability to work with any tool stack. We'll keep on investing in more

partnerships and plugins

that will make developers' lives easier by offering strong "out of the box" integration with the industry's best of breed solution. 
Our aggressive roadmap shows that we're committed to supporting and engaging our community, customers and users with innovations that not only support them, but allow them to thrive and have a competitive DevOps advantage. 
I'm happy and excited to leap forward with the Frogs into 2021. 2020 was a year to remember for us and the world, giving me the opportunity to thank our community and customers for the trust, support and partnership through these times. 
Best wishes for a healthier year and may the FROG be with you!