JFrog Connect: Ready for What's Next for DevSecOps, Edge and IoT
Live from swampUP

Today at swampUP, our annual DevOps conference, JFrog CTO Yoav Landman unveiled the next step toward making the Liquid Software vision of continuous, secure updates a truly universal reality. 
We've introduced JFrog Connect, a new solution designed to help developers update, manage, monitor, and secure remote Linux & Internet of Things (IoT) devices at scale. As the latest addition to the JFrog DevOps Platform, JFrog Connect brings software automation, traceability, and security to the world of connected devices, empowering companies to manage dozens, hundreds, or millions of devices consistently and intuitively across cloud, on-premises, and hybrid deployments.
START CONNECT FOR FREE
A Daunting Task for IoT and DevSecOps
Connected devices are the fastest-growing type of computing runtimes, with an installed base of over 12 billion global active IoT connections (not including mobile phones) by the end of 2021, and predicted to accelerate at 22% a year, through 2025 (according to IoT Analytics). In 2020, each U.S. household hosted 10 connected devices, on average (Statsta).
Your modern Edge and IoT device deployments must support "always-on," hyper-connected, massively distributed operations that are moving at an accelerated "near-real-time" pace. Billions of active end-points such as 5G bay stations, self-driving vehicles, drones, and robots, each with various combinations of sensors, cameras, and hardware acceleration plug-ins, host an exponential number of versions of software, drivers, diagnostic, management, and other applications. An increased amount of "intelligence" is also expected, in the form of embedded logic/policies or content that is cached at the Edge, closer to the service delivery point.
The Edge distribution of endpoints and the proliferation of software artifacts will inherently compound the automation and integration challenge and exacerbate otherwise fragmented cross-function collaboration workstreams. How do you extend the distribution of your software releases beyond traditional targets such as corporate sites and data centers in a seamless and automated fashion to billions of dynamic, possibly mobile end-points spanning headquarters, multiple cloud instances, and of course…, your Edge?
Did You Know?
In a recent IoT & Edge Developer Survey Report, the Eclipse Foundation found that security (46%, up from 39% in 2020) and deployment (31%, up from 23% in 2020) continued to be top developer concerns, and a third highlighted the need for additional integrations with complementary technologies and systems. (Source: IoT & Edge Developer Survey Report, December 2021, Eclipse Foundation)
As you release software faster and continuously, to increasingly heterogeneous and distributed destinations, how do you ensure that you maintain the security and compliance of a, now gigantic attack surface that is composed of a plethora of potential "weakest links?"  What would be your remediation strategy for, say, a (fictitious) CVSS 10 LogEDGEJ vulnerability – if every minute or hour matters?
Get an "Edge" on Security and Compliance  
Fortify your Edge software supply chain against multiple attack vectors through deep analysis at the level of your binaries, zero-day vulnerability detection, and configuration analysis. Focus productive time on the threats that matter with intelligent contextual analysis and advanced remediation guidance from JFrog security research experts for an attack surface that now comprises millions of connected end-points. Automate for DevSecOps at the Edge with uniform and deeply integrated best practices spanning your entire SDLC. 
Ensure Operational Consistency Prem-to-Cloud-to-Edge 
Bringing together Dev+Sec+Ops in an integrated fashion and extending that best practice seamlessly across your on-premises, multi-cloud DevOps, and into Edge domains is essential to scaling. Combining that operational consistency with JFrog Connect's advanced Edge capabilities creates a powerful solution that can power your mission-critical software delivery operations.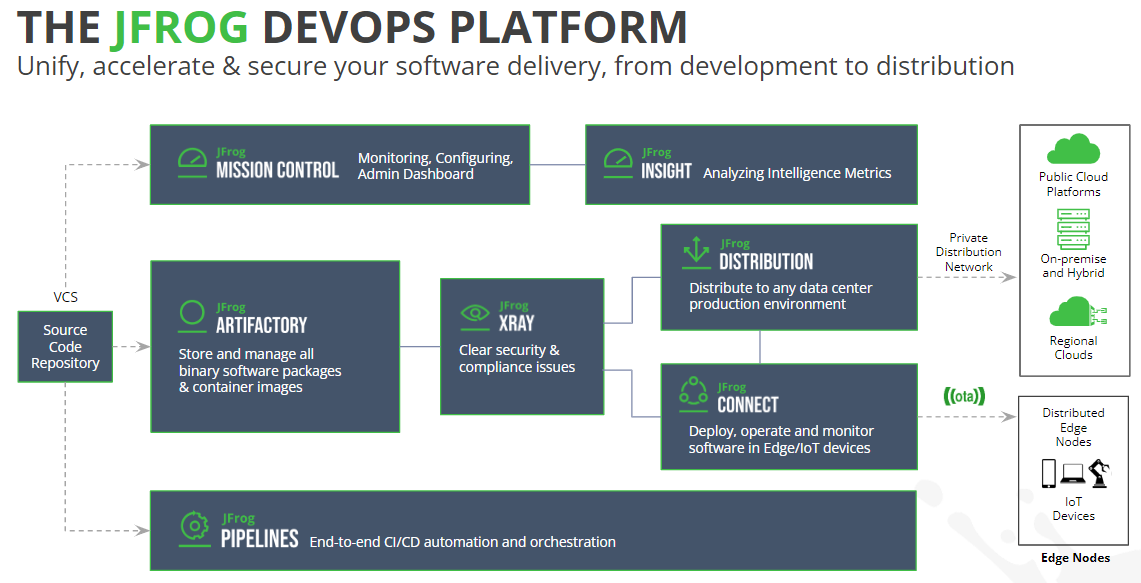 JFrog Connect augments the JFrog DevOps Platform with advanced Edge capabilities, including:
Simplified and accelerated updates:

An easy-to-use, over-the-air (OTA) software solution gives developers agility with best-in-class deployment capabilities for connected Linux devices.

Low-code, drag-and-drop interface:

that allows developers to build their update flow logic, including artifacts, running script commands, deploying containers, and pulling from Git repositories.

Real-time monitoring:

Complete visibility into the current state, resources, data, and associated applications for an IoT device to ensure it's secure and stable.

Unparalleled control.

A suite of access tools gives developers complete control over Linux-based IoT devices from anywhere.

Automatic rollback.

  If a software update process fails, JFrog Connect can trigger instant rollback(s) to ensure the device returns to the previous known state.

Comprehensive management.

Full end-to-end management of connected devices that can be grouped by name, description, or tags, with support for Docker containers and Docker Compose, for manipulating complex applications in Edge and IoT devices. 
With the JFrog DevOps Platform, you can unify, accelerate & secure your software delivery, from development to device. The JFrog Platform offers deeper Dev. + Sec. + Ops. integration, in a flexible and expandable platform that delivers increased security, visibility, and control on-premises, in the cloud, across multiple clouds, and at the Edge.
Get Started Today
For more technical information, review the JFrog Connect user documentation to learn how to deploy OTA updates swiftly and intuitively.
There's no substitute for seeing JFrog Connect in action, and witnessing how easy it is to update, control, monitor, and secure remote devices. We'd love the chance to show you! Schedule a demonstration with one of our solutions engineers so we can show you what JFrog Connect can do.
When you're ready, you can leap right in and start JFrog Connect for free!