The JFrog Platform Delivered 393% ROI
Companies using the JFrog Software Supply Chain Platform accelerated software delivery, improved automated security, and increased productivity and revenue

I'm excited to share the findings of a Forrester Consulting Total Economic Impact™ (TEI) study, a recently commissioned study conducted by Forrester Consulting on behalf of JFrog, which examines the potential return on investment (ROI) that organizations may realize by deploying the JFrog Software Supply Chain Platform.
Software has become the critical infrastructure of our daily lives. As such, it's no coincidence that managing and securing the software supply chain is an increasingly complex challenge. Due to evolving attack methods, developers and the supply chains they manage are the new targets for attacks. This forces DevOps and security professionals to figure out how to maintain the speed of development without sacrificing security.
JFrog is committed to helping organizations gain trust and confidence at every stage of their development cycle. Using the JFrog Software Supply Chain Platform, teams have shrunk time to market, reduced wait times, and improved software supply chain security, enabling their organizations to deliver greater business value.
How much value? Keep reading here for a summary of Forrester Consulting's quantified findings, or see the full downloadable study.
What is a software supply chain platform?
A software supply chain platform simplifies DevOps processes by automating the entire software build and release process. This saves time and resources that would otherwise be spent on manual tasks and provides a comprehensive view of the entire software supply chain. Additionally, it offers predictive analytics to identify any potential security risks, allowing you to make more informed decisions when it comes to your software development strategies.
JFrog provides an end-to-end, hybrid, universal software supply chain platform that powers and manages the DevSecOps lifecycle. It serves as a single system of record for automating the management of software updates at scale by enabling organizations to seamlessly build, secure, distribute, and deploy software, with complete control over their entire software releases from code creation to device deployment.
Summary of benefits quantified by the Forrester TEI Study
From in-depth interviews conducted with four customers across the globe, ranging from 20,000 to over 200,000 employees, Forrester Consulting's financial analysis found benefits of $24.85M over three years versus costs of $5.04M, adding up to a net present value (NPV) of $19.81M and an ROI of 393% with a > 6-month payback period for a composite organization representative of interviewed customers.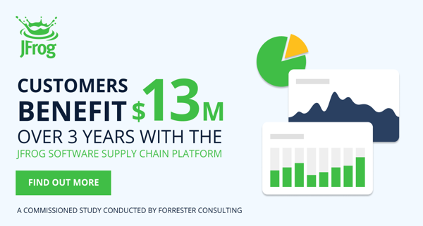 Let's take a closer look at the specific value drivers our customers observed:
Accelerated software delivery with reduced build wait times, worth $13.5 million over three years.
Increased operational efficiency from automated vulnerability and compliance workflows on opensource software, worth $6.7 million over three years.
Increased productivity with DevSecOps collaboration, worth $3.4 million over three years.
Reduced cloud engineering efforts required to manage infrastructure, worth $1.2 million over three years.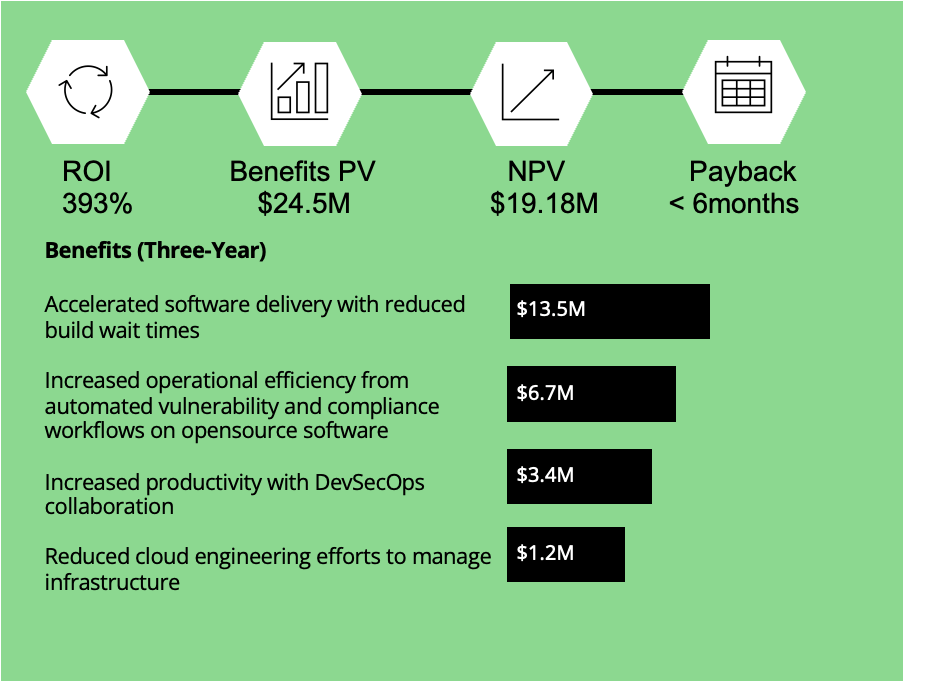 Learn More
Many enterprise software development teams are caught in a bind. They're pushed to move faster and produce more, with time and budget restrictions. They juggle siloed point solutions, and incur high costs to identify and mitigate problems.
JFrog customers are doing things differently. Using the JFrog Software Supply Chain Platform, customers report timesaving tool consolidation, automated shift-left security processes, and improved time to market. It's no coincidence that 89 percent of the Fortune 100 and millions of developers worldwide use the JFrog Platform to improve velocity, secure development, and deliver visibility into the performance of their software pipelines.
To learn more about the cost savings and business benefits of the JFrog Platform, download the JFrog Total Economic ImpactTM study.