JFrog and Atlassian simplify DevOps-Centric security

Atlassian has long been helping agile teams collaborate, track progress, and manage projects more efficiently, and is now simplifying software security for Jira Software Cloud users. We're excited to announce that JFrog has joined Atlassian as a security partner. The integration with the JFrog Platform enables JFrog Xray data to be surfaced in Jira, making software security and compliance an integrated part of developers' workflows, and giving teams the confidence to deliver trusted releases with ease and speed.
Easy shift-left security for faster releases shipped right
Companies today, across sizes and verticals, are looking for tools and solutions that speed up their processes, integrate with existing systems, and protect their entire software supply chain. The increasing sophistication of software supply chain threats makes it critical for organizations to build vulnerability management into their software development processes. Tools that simplify processes, facilitate collaboration, and offer automation are key for development and security teams to deliver enhanced organizational security.
A recent Forbes article urges businesses to take a DevOps-centric approach to security, as software vulnerabilities persist across the entire software lifecycle, from code to edge. According to Forbes, "Having the right tools and solutions to help discover and mitigate security issues should be a no-brainer." JFrog Security in Jira helps DevOps and security teams expeditiously remediate vulnerabilities within one centralized location.
What the JFrog integration means for Jira users
The 50,000+ organizations that trust Jira Software Cloud for agile work management solutions are now able to make automated software supply chain security an integrated part of their DevOps workflows using the JFrog Platform. By connecting the JFrog Platform with Jira Software Cloud, new vulnerabilities can be quickly identified within the context of a team's tracked workflow. This enables all team members to stay informed of their current security posture, know what needs fixing, and progress toward security goals.
"We're excited to partner with JFrog to help developers bring security into their agile practices."
– John Kinmonth, Head of Product Marketing, ADO Portfolio Growth, Atlassian
How to integrate JFrog Security in Jira Software Cloud
Integrating JFrog Security into your Jira Software Cloud instance is easy. Select the Xray policies you may have created already (such as blocking a build or providing notification of a CVE threshold in a package), and attach them to your Jira project to gain immediate visibility of security violations in Jira DevOps workflows.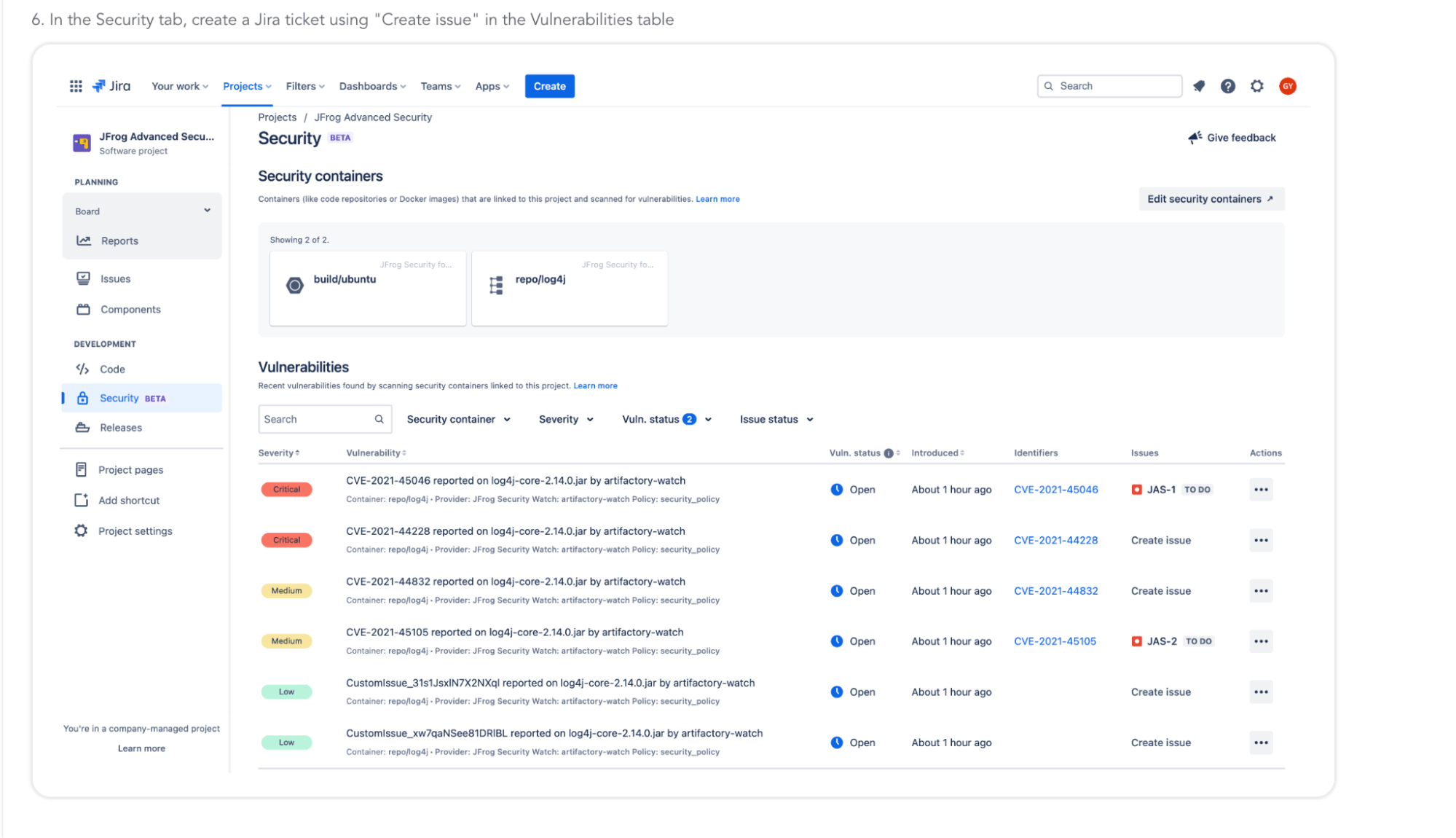 Watch the demo to see how to integrate JFrog Security in your Jira Software Cloud instance in just a few steps:
Ready to try JFrog Security in Jira?
The JFrog Platform, which helps control and secure software supply chains for 7200+ customers around the world, is accessible through Security in Jira today. With this native integration, you can get actionable security insights directly in Jira, thereby enhancing collaboration among your organization's software developers, security, and operations teams in reviewing and remediating vulnerabilities.
Current JFrog Xray users can download the free application from the JFrog app on the Atlassian Marketplace. If you are new to JFrog or JFrog Xray, sign up for a free Security Trial and then download the JFrog app on the Atlassian Marketplace to get started!