JFrog Support: The JFrog Difference
Unbeatable Support
JFrog is a recognized leader within the DevOps industry, and one of the primary drivers of this success is our unbeatable Support organization.
Since our establishment in the early 2000s, JFrog has delivered exceptional technical support to help customers maximize their subscriptions. JFrog Support is a group of seasoned Developer Support Engineers (DSEs) who have the experience, education, and drive to solve the most complex technical challenges. With JFrog's "follow the sun" model, these experts are always ready to assist with tailored, timely, and precise support responses.
Partnership and customer happiness lie at the center of our organization's philosophy. This white paper outlines six unique ways JFrog Support creates best-in-class customer experiences.
The JFrog Difference
1. Experienced Developer Support Engineers
JFrog Developer Support Engineers (DSEs) handle every detail of customer requests with expert care, from the first touch through resolution. DSEs have deep R&D-level expertise that enables them to quickly diagnose and resolve all types of issues, and they receive continuous training to remain fully up to date on the latest DevOps technologies, including JFrog's own growing product portfolio.
Furthermore, JFrog doesn't operate within a level 1-2-3-4 support model. Every JFrog DSE is empowered to resolve all user issues, and readily work with JFrog R&D when needed. DSEs have access to all product logs, code, and cloud environments to reproduce customer issues and find a resolution.
Our highly-skilled DSEs provide:
Subject matter expertise for improved responses
Comprehensive incident analysis and remediation
Remote troubleshooting sessions
JFrog Support is available around the clock and from anywhere in the world. And because of the tight-knit, community-like nature of the company, when you get JFrog Support, you're really getting the support of the entire organization.
"What makes JFrog Support so special are the people and our values. When hiring new DSEs we look for critical thinkers who are passionate about technology, solving problems, and assisting other people." – Ron Klinger, Senior Director of Customer Support at JFrog
2. Highly Available Help
All local sites function with the highest training, ready to provide you with the best support. You can count on our reliable follow the sun support model, assured that there will always be someone to handle your request. Regardless of where you are, you will get the support you need.
A Support team member will respond to any issue within 24 hours. For anything mission critical, our Service Level Agreement (SLA) response time is up to 4 hours.
Follow the sun model
24/7 support
24-hour response time for non-critical issues
4-hour maximum response time for mission critical issues
JFrog's SLA offers proactive support to maintain the quality and integrity of your production deployment. The Support team's R&D-level knowledge of JFrog tools and partner technologies will address any issues you may have.
Easily access support anytime with the Customer Support Portal. If you need to get a hold of someone at JFrog immediately because of a production outage, you can always call our customer emergency number.
"The quickest response and resolution to an issue over ANY of our other vendors. This GREATLY helps JFrog's standing internally with [us], and we are greatly appreciative." – Happy JFrog Customer
3. Support for Every Need
JFrog Support is available at every stage of the JFrog technology adoption process. Examples of the top reasons why customers reach out include: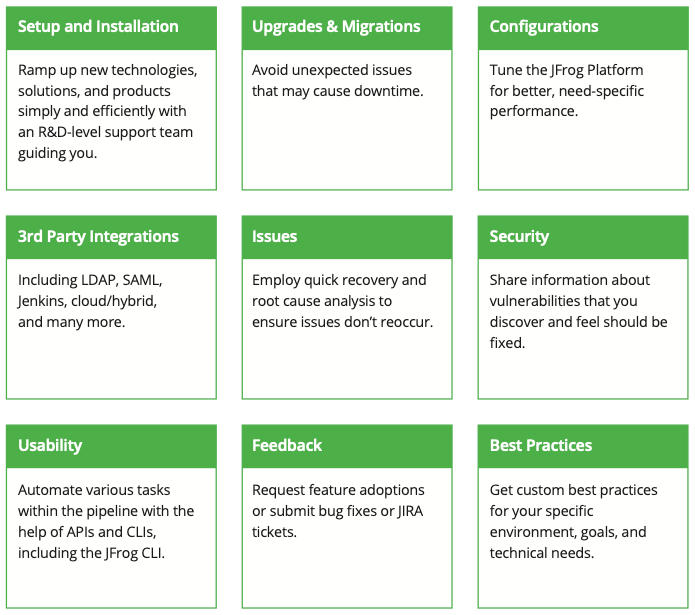 "Our customers are highly technical people, so when they need support, they need someone who knows just as much as they do, ideally more. The people we serve are smart, and they notice quickly when someone can't help them. When you reach JFrog Support, you'll always get someone who can help you." – Ron Klinger, Senior Director of Customer Support at JFrog
4. Proactive Collaboration
Guided by our continuous availability standard, we don't just respond to Support tickets, but we also address your strategic direction and goals to help you get the most out of your JFrog solution.
Our High Touch Support and Platinum Support tiers each provide an elevated support experience. Each includes a unique combination of additional support services that are designed to meet your organization's specific needs. As our highest tier, Platinum Support includes all the features of High Touch Support, with a few notable additions.
High Touch Support features:
Enterprise Solutions Lead — Your technical point of contact and ambassador within JFrog will support you with onboarding, incident management, and escalation to R&D when needed.
On-boarding and implementation guidance — JFrog will assist with your initial setup, feature implementation, upgrades, and provide expert proactive guidance to help you prevent unforeseen issues.
Critical incident management — Your ESL will take ownership of business-critical outages with a tactical response focused on issue mitigation, speed-to-resolution, and consistency of cross-team engagement.
Platinum Support features:
Strategic Enterprise Solutions Lead — Your designated Strategic ESL will have a deep knowledge of your organization's short, medium, and long-term needs, and act as your liaison with JFrog's technical teams.
Platinum expert team — All support tickets opened by Platinum customers are assigned only to Developer Support Engineers (DSEs) that are trained to handle advanced enterprise-level environments
Accelerated response time — Benefits of accelerated response include a 30-minute initial response time for critical issues, 8-hour initial response time for high issues, and front-of-queue scoring for faster ticket assignment for all tickets.
Regular account assessment — Your ESL will deliver actionable guidance via monthly reports, quarterly business reviews, annual health checks and annual security scans to help you optimize your JFrog solution.
"Please let folks know that Lawrence (JFrog DSE) has provided 1st Class Support. Knowledgeable, excellent technical acumen, and knows the product well – an educated professional and asset to the company." – Happy JFrog Customer
5. Extensive Self-guided Resources
A primary focus of JFrog's Support organization is ease of engagement. We know that some circumstances require a real-time conversation while others can be handled more efficiently via independent research. That's why we provide multiple ways to get the information you need, available whenever you need it.
Knowledge Base
According to customer feedback, a self-serve approach provides ideal support for most issue resolution. The JFrog Knowledge Base currently addresses over 20% of all customer inquiries and new information is being added by our technical team on a daily basis. The Knowledge Base is a publicly available resource.
Education and Certifications
Education and certifications are delivered via a three-tier model, and involve both written and practical hands-on examinations. Programs are structured to support the busy professional with a combination of instructor-led and self-paced learning modules that guide the learner through this journey.
Customer Support Portal
Customers can use the Customer Support Portal to reach Support, or troubleshoot on their own. The portal offers advanced search functionality such as the automatic gathering of information from various sources, then combining them to create one cohesive runbook. It feeds user data back to JFrog that we leverage to consistently enhance our offerings.
Our #1 goal is to provide the best customer experience at all service levels. This extensive self-serve support framework was built to support every degree of customer need, with ease.
"Support was timely and succinct. The knowledge shared to correct this upgrade was awesome." – Happy JFrog Customer
6. The JFrog Codex
Customer Happiness is part of the JFrog Codex, the values we live and work by. JFrog drives the software support industry standard by ensuring our customers are truly happy. We acknowledge that neither technology nor people are perfect; it is our constant striving for excellence that keeps us working hard behind the scenes, not only during customer engagement.
JFrog is constantly investing in our customers through our technology, research, as well as the expertise of our DSEs who deliver the highest level of service. It is the sum of all the moving parts, and the culmination of all our preparation leading up to the moment you need us that cultivates Customer Happiness and makes JFrog Support unbeatable.
"You were extremely patient with us and we appreciate that very much. You have certainly contributed to our troubleshooting knowledge during the analysis of this issue." – Happy JFrog Customer
How We Can Help
JFrog is on a mission to power all the world's software updates, driven by a "Liquid Software" vision to allow the seamless, secure, fearless flow of binaries from developers to the edge. The JFrog Software Supply Chain Platform enables software creators to power their entire software supply chain throughout the full binary lifecycle, so they can build, secure, distribute, and connect any source with any production environment.
JFrog's hybrid, universal, multi-cloud platform is available as both self-hosted and SaaS services across major cloud service providers. Millions of users and thousands of customers worldwide, including a majority of the Fortune 100, depend on JFrog solutions to securely embrace digital transformation. Once you leap forward, you won't go back!
Interested in learning more about JFrog's support offerings? Contact us at JFrog Support.
"I cannot thank you enough for all the support you have provided. Truly exceptional." – Happy JFrog Customer