JFrog Names Kavita Viswanath as General Manager in India
PRESS RELEASE, January 15, 2020
Former Flipkart and Microsoft Leader Joins Team to Help Drive Global Growth
Bengaluru, January 15, 2020 — JFrog, "The Liquid Software Company" known for enabling continuous update flows with advanced DevOps platform tools, has appointed Ms. Kavita Viswanath as its General Manager for India to oversee their India Operations.
"We are excited to onboard Ms. Kavita Viswanath as the General Manager for JFrog India," said Orit Goren, COO at JFrog. "The business world is streaming fast towards cloud services and that accelerates their adoption of DevOps and DevSecOps to account for continuous delivery and seamless deployment. We are scaling up our operations in India and Kavita's experience in leading teams and integrating functions across a company will play a major role with us."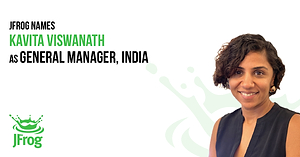 In recent years, JFrog has acquired two US-India based companies.
CloudMunch allows DevOps business intelligence and analytics to drive DevOps forward and is included in the JFrog Platform as JFrog Mission Control. Shippable is a best-of-breed CI/CD technology that is now included in the JFrog Platform as JFrog Pipelines. Between those two acquisitions, the headcount at JFrog in India has continued to grow.
Viswanath brings over 19 years of experience in leading roles with different sectors. She was associated with Flipkart before joining JFrog, and was responsible for building the B2B business of their'Made in India' brand Billion. She also played a role as Head of Planning and Strategy for Flipkart Ads. Her most recent assignment with them was leading Global Sales at Myntra, for their AI-based SaaS product.
"I am happy to have this great opportunity with JFrog India. JFrog has proved its presence in the global business of cloud and DevOps services, and India has unmatched business potential to explore in this area," said Kavita Viswanath in a statement.
Viswanath proudly joins JFrog after many years in the software business with leading global technology companies like Microsoft and Oracle, where for more than a decade she managed Enterprise Sales and Alliances for their on-premises and Cloud businesses.
Continued Viswanath: "I look forward to leading the dynamic team and helping JFrog scale up their India operations."
About JFrog
JFrog is on a mission to enable continuous updates through liquid software, empowering developers to code high-quality applications that securely flow to end-users with zero downtime. JFrog is the creator of Artifactory, the heart of the end-to-end Universal DevOps platform for automating, managing, securing, distributing, and monitoring all types of technologies. JFrog products are available as open-source, on-premise, and on the cloud on AWS, Microsoft Azure, and Google Cloud. As a leading universal, highly available enterprise DevOps solution, the JFrog platform empowers customers with trusted and expedited software releases from code-to-production. JFrog is trusted by more than 6,000 customers, and top global brands such as Amazon, Facebook, Google, Netflix, Uber, VMware, and Spotify depend on JFrog to manage their binaries for their mission-critical applications. JFrog is privately held with offices across North America, Europe, and Asia. Learn more at jfrog.com.
Media Contact: jfrogindiapr@sixdegreespr.co.in