JFrog Unveils New Industry-First Capabilities for its DevOps Platform to Enhance Binary Lifecycle Management at Scale
PRESS RELEASE, May 26, 2021
Industry-first Federated Repositories, Crypto-signed Pipelines and other new features improve efficiency and end-to-end trust when supporting large-scale growth in binaries, cross-geo developer teams, and concurrent delivery pipelines.
SUNNYVALE, Calif., May 26, 2021 — JFrog Ltd. ("JFrog") (NASDAQ: FROG), the liquid software company, today announced several new enhancements across its JFrog DevOps Platform during its annual swampUP user conference.
The new capabilities help organizations support binary lifecycle management at scale to improve developer productivity, efficiency and security across the end-to-end software delivery process. Enterprise DevOps and large-scale modern application delivery require robust management of binaries, which are the building blocks of applications.
"Building your DevOps automation around binaries' flows ensures you have trust in every component in your supply chain and fidelity between the binaries that you run in production and those that started in your pipelines," said Yoav Landman, co-founder and CTO, JFrog. "Improving binary lifecycle management – BinOps – at scale is a key challenge for organizations and the new capabilities enable enterprise DevOps teams to seamlessly support the exponential growth of binaries, distributed teams, and multi projects' delivery pipelines – all in a secure, efficient, and fast way."
New capabilities include:
Federated Repositories
Federated Repositories, a new industry-first feature of JFrog Artifactory, part of the JFrog DevOps Platform address the challenge of managing binaries across multi-site topologies and keeping artifacts in sync between remote development sites, as they collaborate on the delivery process.
A Federated Repository abstracts the infrastructure layer to create a datacenter-transparent repository between different remote locations or different instances of the JFrog Platform that are 'members' of the Federation. Automatic bi-directional sync and acceleration of the mirroring between locations, including efficient continuous replication of all configurations, metadata and binaries, ensure changes made by developers on one site are rapidly accessible by all other remote locations. Federated repositories are simple to configure and manage and improve developer productivity, delivery speed, and cross-site security.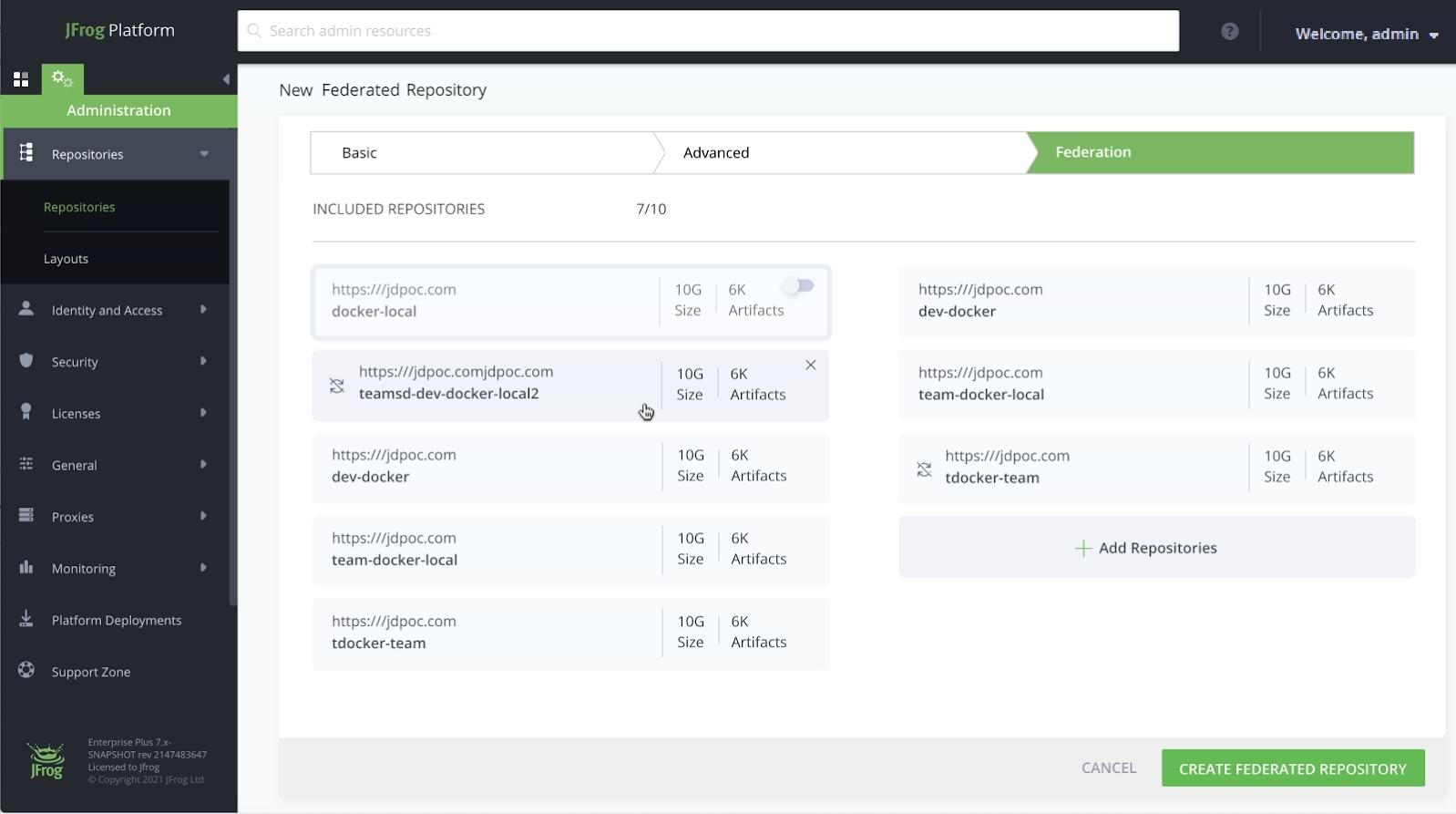 Signed Pipelines
Signed Pipelines, a new industry-first innovation of JFrog Pipelines, enables developers to ensure the integrity and security of builds and artifacts as they progress through the binary lifecycle.
To accomplish zero-trust pipelines — meaning that anything that didn't come from the Pipeline is not to be trusted — Signed Pipelines automatically signs every step and outcome of the CI/CD pipeline to create trust in the software delivery process. This includes signing all of the pipelines' inputs and outputs, making them immutable and tamper-proof. To do this, JFrog Pipelines keeps a cryptographically-signed ledger that cannot be written to once a pipeline finishes execution. By continuously validating that all pipeline actions are performed on the certified, unique binaries, Signed Pipelines ensures the authenticity of the builds as they get promoted to Production. Additionally, each binary artifact is automatically linked to the pipeline step that created it with full visibility and audit for each step/run, and the ability to block promotion or deployments if authenticity cannot be verified.
Cold Artifact Storage
Currently in beta, Cold Artifact Storage enables organizations to save costs and improve usability and performance by archiving artifacts that are not in use anymore but need to be kept due to regulatory requirements or corporate policies. Archiving policies are based on binaries' metadata, with self-service search and retrieval by authorized users.
Dependency Scanning
To improve trust in software applications from the earliest stages of development, at scale, JFrog is introducing the ability to identify OSS vulnerabilities in third-party dependencies directly from source code in Git repositories. Integrating with JFrog Xray, dependency scanning allows vulnerabilities to be detected early in the development lifecycle ("shift left"), with customizable, automated actions triggered based on the organization's security or compliance policies (such as blocking the use of certain compromised components). This capability will be released in Q2.
End-to-end visibility and traceability with best-of-breed Platform integrations
New platform integrations enable traceability and collaborations in a single pane of glass, with unified data and correlated events throughout the DevOps lifecycle. Some of the new bi-directional integrations announced are Slack and MS Teams (currently in beta) for collaboration between Dev and Ops; Datadog, Dynatrace, and Splunk for observability, and PagerDuty for incident and change management.
To learn more about the JFrog Platform and take advantage of the new capabilities for binary lifecycle management at scale, visit https://jfrog.com/platform/
About JFrog
JFrog, the creator of the DevOps platform, is on a "Liquid Software" mission to enable the flow of software seamlessly and securely from the developer's keystrokes to production. The end-to-end, hybrid JFrog Platform provides the tools and visibility required by modern software development organizations to fully embrace the power of DevOps. JFrog's universal, multi-cloud DevOps platform is available as open-source, self-managed, and SaaS services on AWS, Microsoft Azure, and Google Cloud. JFrog is trusted by millions of users and thousands of customers, including a majority of the Fortune 100 companies that depend on JFrog solutions to manage their mission-critical DevOps pipelines. Learn more at jfrog.com.
Cautionary Note About Forward-Looking Statements
Certain statements in this press release, including but not limited to statements regarding new features and capabilities improving efficiency and end-to-end trust when supporting large-scale growth in binarie are forward-looking statements that are subject to risks and uncertainties. These risks and uncertainties, which could cause the forward-looking statements to differ materially, include, without limitation: our ability to maintain the security and availability of our software, risk of a security breach, risk of interruptions or performance problems associated with our products and platform capabilities, our ability to adapt and respond to rapidly changing technology or customer needs, and other risks detailed in our filings with the Securities and Exchange Commission, including in our Annual Report on Form 10-K for the year ended December 31, 2020, our Quarterly Report on Form 10-Q for the quarter ended March 31, 2021, and other filings and reports that we may file from time to time with the Securities and Exchange Commission.
Media Contact:
BOCA Communications
Jenn Zimmer