Raspberry Pi 5 has arrived! On September 28th, 2023 the official announcement was delivered on the Raspberry Pi official website in an article by Eben Upton, titled "Introducing: Raspberry Pi 5!".
We're happy to announce that our IoT management platform, JFrog Connect, connects with Raspberry Pi 5, out of the box. Connect's capabilities extend to any single board SBC Linux based operating system, so you have the freedom to choose how you want to update, control, and manage all your IOT devices.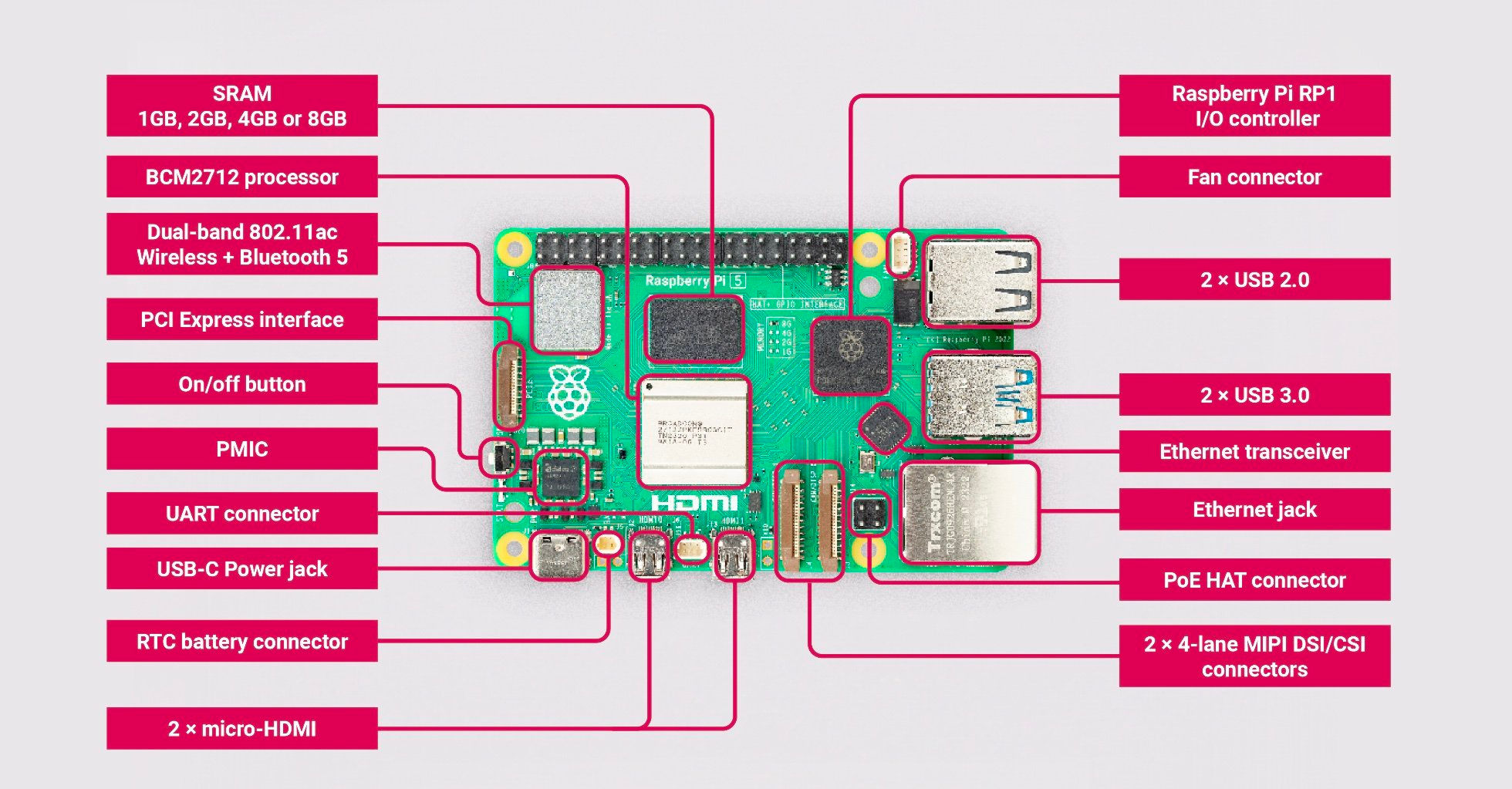 Here's a summary of the key points from Upton's announcement:
Raspberry Pi 5 Launch: Raspberry Pi has announced the launch of RPI 5, set to be available at the end of October 2023. The pricing starts at $60 for the 4GB variant and $80 for the 8GB model.
Significant Upgrades: Raspberry Pi 5 offers substantial upgrades across various aspects, promising a high-quality user experience. It boasts new features and is more than twice as fast as its predecessor.
In-House Design: Raspberry Pi 5 is the first Raspberry Pi computer to feature silicon designed in-house in Cambridge, UK, marking a significant milestone for the company.
Key Features:

2.4GHz quad-core 64-bit Arm Cortex-A76 CPU
VideoCore VII GPU supporting OpenGL ES 3.1 and Vulkan 1.2
Dual 4Kp60 HDMI display output
4Kp60 HEVC decoder
Dual-band 802.11ac Wi-Fi and Bluetooth 5.0/BLE
High-speed microSD card interface with SDR104 mode support
2 USB 3.0 ports and 2 USB 2.0 ports
Gigabit Ethernet with PoE+ support (requires separate PoE+ HAT, coming soon)
2 4-lane MIPI camera/display transceivers
PCIe 2.0 x1 interface for fast peripherals
Raspberry Pi standard 40-pin GPIO header
Real-time clock
Power button

Pre-Orders: Raspberry Pi 5 units are available for pre-order from Approved Reseller partners, with the first shipments expected by the end of October.
Priority Access: Raspberry Pi is prioritizing single-unit sales to individuals and offering Priority Boarding programs for subscribers of The MagPi and HackSpace magazines.
Background: The article discusses the evolution of Raspberry Pi products, starting from the launch of Raspberry Pi 4 in 2019 and highlighting the company's commitment to continuous improvement.
New Chipset: Raspberry Pi 5 features three new chips designed specifically for the platform: BCM2712, RP1, and DA9091, which collectively provide significant performance enhancements.
Form-Factor Updates: While Raspberry Pi 5 retains the credit-card-sized form factor, it includes several design updates, such as removing the composite video and audio jack, introducing FPC connectors for MIPI interfaces, and more.
Manufacturing: Raspberry Pi 5 continues to be manufactured in the UK, emphasizing the benefits of local production and quality control.
Accessories: Along with Raspberry Pi 5, the article mentions new accessories, including an updated case with a built-in fan, an Active Cooler, a 27W USB-C Power Supply, camera and display cables, a PoE+ HAT, and M.2 HATs for attaching NVMe SSDs.
Raspberry Pi Beginner's Guide: A new edition of the Raspberry Pi Beginner's Guide is released, covering Raspberry Pi 5 and the upcoming Raspberry Pi OS based on Debian Bookworm.
New Raspberry Pi OS: A new version of Raspberry Pi OS is mentioned, based on Debian Bookworm, with improvements including the transition to the Wayfire Wayland compositor for Raspberry Pi 4 and 5.
It's wonderful to finally see the newest iteration of Raspberry Pi. If your IoT fleet involves a mix of earlier versions of Raspberry Pi, or other types of similar hardware running different variants of Linux, you'll be pleased to know that JFrog Connect likely supports them all. Enjoy!