The New Raspberry Pi 4 VS BeagleBone Black – 2021 comparison
With new single board computers being released every day, choosing the right computer for your project can be very difficult.
We've tried to make the selection process much simpler by comparing two of the most famous single board computers. That is the Raspberry Pi 4 and the BeagleBone Black.
This article will compare the two computers based on their price, projects, and connectivity.
But before we can get into details, let's get a brief introduction to the two single-board computers.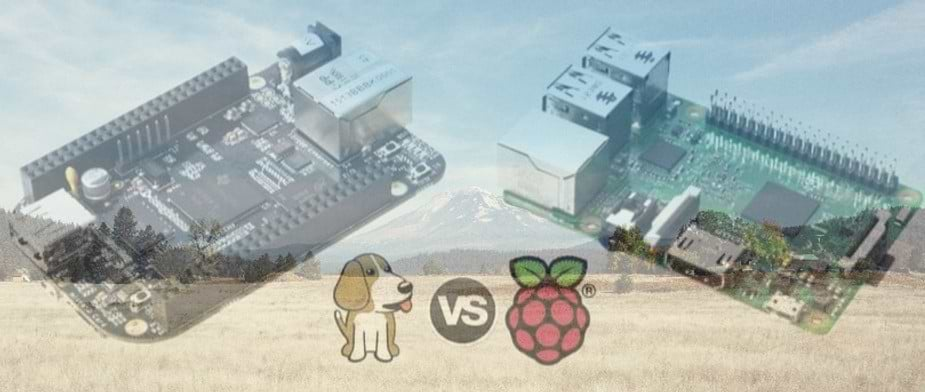 If it's a BeagleBone, Raspberry Pi or any other Linux based device, here is the best way to control, access and update it remotely:


JFrog Connect is a device management platform for managing your Linux devices remotely.
Register to the platform and connect your device in 60 seconds! -> https://connect.jfrog.io/
The Raspberry PI
The Raspberry Pi single computer series has been the core of single-board computers prevalent in the market. The Pi has seen five revisions since its creation.
There's the Pi Zero and Pi Zero W, the Pi 3 A+ and B+, and finally, the new Raspberry Pi 4, which contains up to 4B of LDRDR4 RAM, dual micro DMI output with 4k ability, as well as a fast system-on-a-chip (SoC).
Raspberry Pi 4 specs
Gigabit Ethernet
2 USB 3.0 port and 2 USB 2.0 ports
2-lane MPI DSI display port
2-lane MPI CSI camera port
OpenGL ES 3.0 graphics
Power over Ethernet (PoE) enabled
Operating temperature ranging from 0 to 50 degrees C ambient.
4-pole stereo audio and composite video port
Gigabit Ethernet
The BeagleBone Black
The Beaglebone Black is open-source hardware that's like Raspberry Pi but more powerful.
It's based on the TI Sitara AM335- a SOC application processor with ARM Cortex A8 processor. It comes with a 512 RAM, and unlike the Raspberry Pi, it includes onboard storage in the form of 4GB eMMC Flash.
BeagleBone Black Specs
NEON Floating-Point Accelerator
512MD DDR3 RAM
Micro HDMI
USB host
Ethernet
USB client for power and communications
3D Graphics accelerator
4 GB embedded flash and Micro SD Card Slot
Raspberry Pi 4 VS BeagleBone Black: Pricing
The Raspberry Pi 4 is reasonably priced and starts at $35 for a 1GB variant, but the 4GB variant can cost you about $55. This is affordable, considering the amount of computing power it offers you.
The BeagleBone Black will cost you about $63, meaning it's on the high-end. However, it's a really solid single-computer board, and If you factor in its Internet of Things (IoT) focus, you'll find it well-priced.
Raspberry Pi 4 VS BeagleBone Black: Projects
You can use the Raspberry pi 4 for virtually any project you can think of. For example, you can transform into Android TV Box, retro gaming arcade, Linux desktop, NAS, 3D printer, and more.
The BeagleBone Black comes with a unique 46-pin header and PRU. These two make it a truly powerful computer with the ability to handle complex industrial Internet of Things Application. For example, it's perfect for robotic projects and retro gaming.
Raspberry Pi 4 VS BeagleBone Black: Connectivity
The Raspberry Pi 4 pretty well spaced out. For input/output connectivity, it features a 40 pin GPIO header, 2- lane MIPI DSI and 2-lane MIPI CSI connectors, 4-pole stereo A/V port, and four USB.
To handle video output, the Raspberry Pi 4 comes with dual micro HDMI ports that deliver 4K video output.
The BeagleBone Black might lack most of the USB features found on its Pi 4 counterpart. But it comes with two 46 pin headers. It also rocks 4GB eMMC and dual PRU 32-bit micro-controllers. All these features increase BeagleBone I/o, making it perfect for advanced projects that require sensor hooks.

Conclusion
The Raspberry Pi 4 and the BeagleBone Black are evenly matched, but they address different purposes.
The Raspberry Pi 4 is a very popular choice that's not only capable of running desktops like Linux, Chrome OS, and Linux but also specialized OSes like the ones found in retro gaming consoles, Smart home hubs, IoT Projects, and HTPCs.
The BeagleBone Black is designed for the Internet of Things (IoT) projects. It's capable of running OSes like Android and Linux.
So, choose wisely depending on your needs, because both single-board computers can deliver massive computing powers.
Both boards are 100% supported in JFrog Connect device management platform, start to deploy OTA update, access your devices using SSH/VNC remotely or control it, all remotely using JFrog Connect