Nvidia Jetson Xavier NX Review
Nvidia's powerful embedded System on Module device is a fantastic new addition to the single-board computers (SBCs) market. A significant upgrade to its predecessor, the Jetson Nano, this new model's improved performance makes it perfect for machine learning applications. However, all developers should know that while this SBC is small, it's not low-power and low-performance, and it's not for developers who are new to programming with SBCs.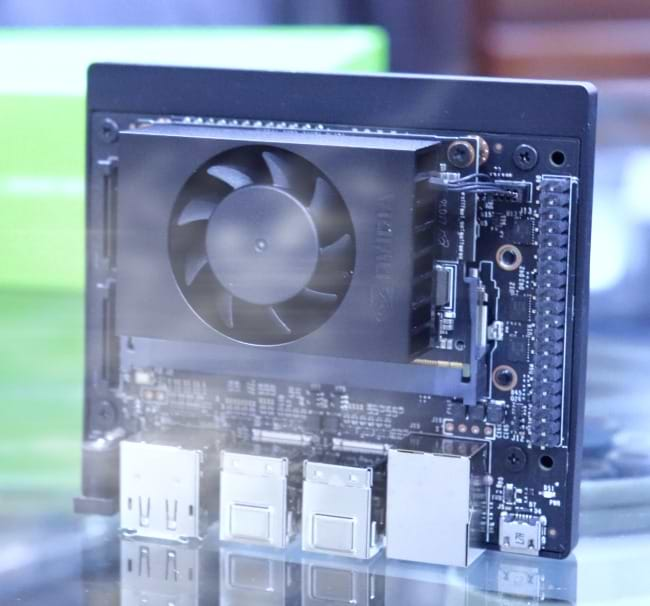 Join JFrog Connect and start to manage embedded Linux based products remotely.
Nvidia Jetson Xavier NX: The Specs
The Nvidia Jetson Xavier NX has been thoroughly designed for machine learning projects, so it contains a powerful CPU and GPU that have cores that can be run separately to the rest of the unit. This SBC can deliver up to 21 trillion operations per second (TOPS) on only 15-watts of power, but it's also able to run on a lower 10-watt mode.
Nvidia Volta GPU
6-core Nvidia Carmel ARM v8 CPU
8GB RAM
Also, the developer kit for the Jetson Xavier NX adds:
MicroSD port
4x USB 3.1 and 1x microUSB 2.0 ports
1x HDMI port
1x DisplayPort
Gigabite Ethernet and WiFi connectivity
2x CSI-2 ports
Nvidia Jetson Xavier NX: The Software
The Nvidia Jetson Xavier NX runs a modified version of Ubuntu. From the OS, it's easy to change how much power the device uses or its performance.
Included with the Jetson Xavier NX are a handful of pre-trained machine learning models in the JetPack toolkit, which can be programmed and customized with a variety of languages. It also has software available for training robots, which works with recognizing poses and facial expressions, and this can be tested with a USB webcam.
All of the pre-loaded software comes with comprehensive documentation and example projects to demonstrate how the SBC works. Nvidia's JetPack software and developer support websites make it easy to get going with machine learning, AI, and robotics programs. It also offers plenty of tutorial content to help users get used to the Jetson Xavier NX and programming with an ARM CPU.
Nvidia Jetson Xavier NX: In Conclusion
The Nvidia Jetson Xavier NX is one of the most powerful machine learning tools on the market and is well suited for both personal and industrial projects. However, with the SBC and developer kit starting at $399, this system is best suited for people who are already familiar with machine learning and AI and want to take their projects to the next level.