Linux device management platform is a great way to maintain today's (2020) edge products that are running on Linux based OS or RTOS. There are a few basic tools and features that made the operation maintenance easy and convenient than ever.
With JFrog Connect IoT platform, you can be confident with managing thousands of Linux based devices all over the world remotely.
Here are a few basic features that can help you maintain products remotely and always be in control:
Device management
View your product fleet in one dashboard, including online/offline states and relevant details about each and every device.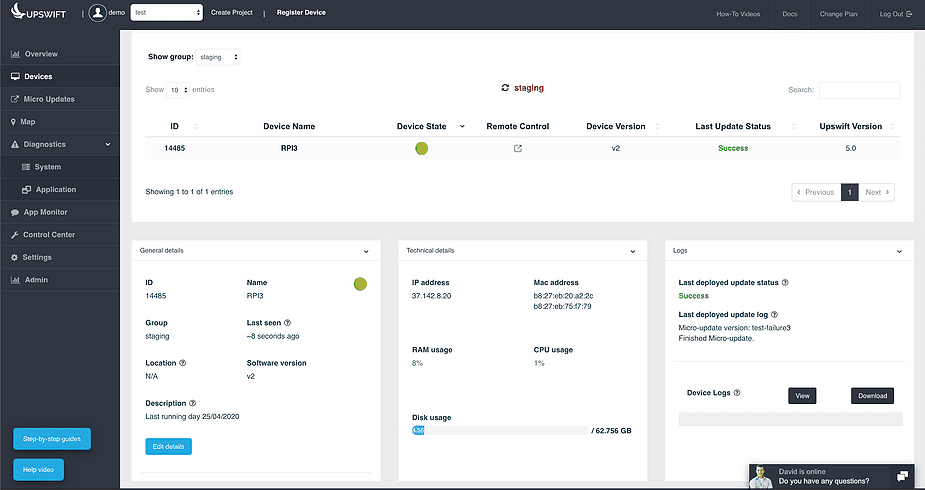 Alerts
No need to trace the resources and status of each device. JFrog Connect automatically monitors your device fleet behavior and sends email alerts based on your configurations.
Update
Deploy over the air software updates to your devices. Keeping them stable and secure as possible with the latest product software.
Control
In some cases, there are issues and software bugs that require deep separate debugging. In those situations, it is important to have the ability to send commands or even remotely access the device terminal.
Monitor
Receive errors and monitor the device's application and resources can help us handle every little change of the product behavior in the field, far from human hands.
JFrog Connect designed to work perfectly with any type of Linux based OS and hardware architecture. It takes 60 seconds to connect a device and start managing it remotely – checkout JFrog Connect website.