IoT device management in 2021 method
JFrog Connect IoT Device Management platform redefines the way of managing IoT remotely by providing all in one cloud platform with the best tools to manage connected edge devices all over the world. Manage thousands of IoT devices is now easy than before, and we mean it.
As for today, Edge IoT devices all over the world are managed with JFrog Connect platform, and this is just the beginning, all thanks to an extremely fast and easy integration that takes less than 60 seconds with any IoT device.
What is JFrog Connect IoT Device Management?
JFrog Connect IoT platform is all in one cloud solution providing tools and features to manage, control and maintain thousands or even millions of edge IoT devices remotely. The device management includes amazing arrangement features that expend the possibilities and capabilities of fleet device management. JFrog Connect wants to make sure you are always in control of your product fleet, and that's done perfectly with many nice states and details all arranged under each device. Grouping, naming, locations, device resources, online/offline state, and many others will keep your device fleet manged any given moment.
Here are just a few of JFrog Connect tools – over the air update, remote control (remote SSH access to the IoT device terminal), send remote BASH commands, monitor device resources, and monitor application errors and important data.
See more about our features here.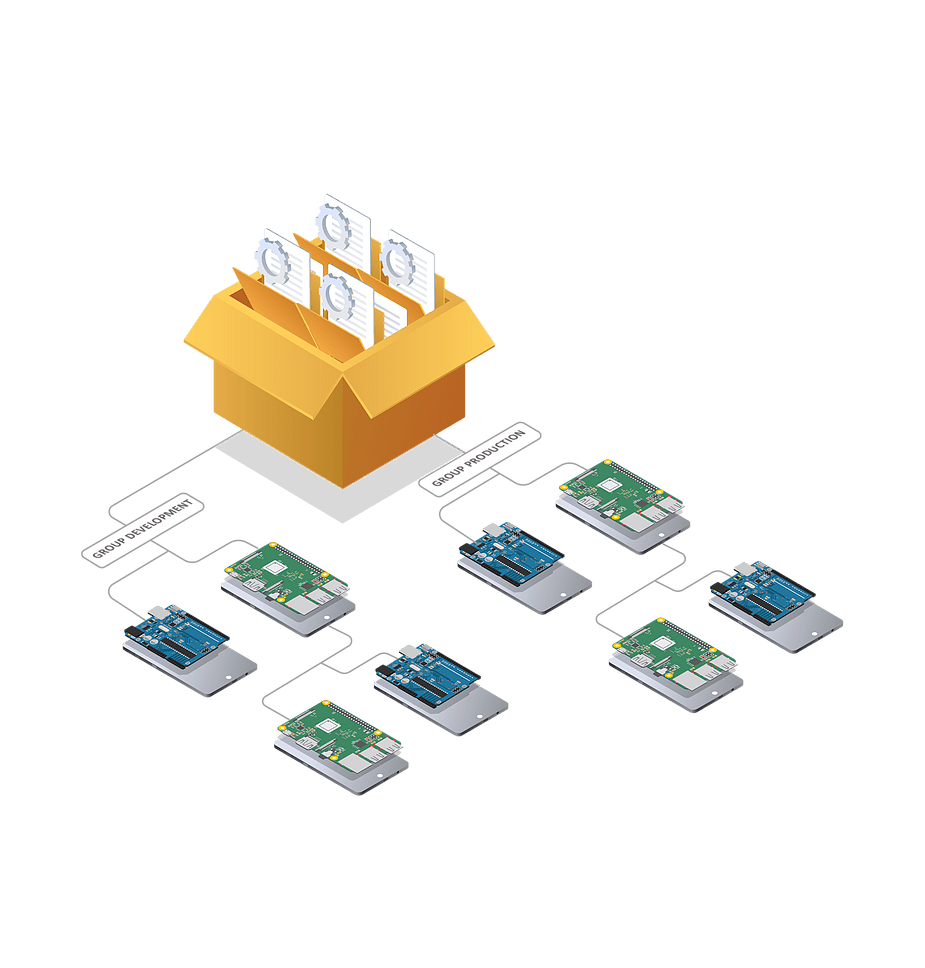 How JFrog Connect IoT Device Management works?
JFrog Connect designed to be secured and lightweight as possible. The architecture includes to main parts – Client-side: JFrog Connect Agent is a lightweight service, runs separately from IoT application and stays in the background to make sure there will always be an option to control and manage the device over the internet from JFrog Connect platform. The second part is the Server-side: responsible for the communication with the edge device where all is based on HTTPS client-server known architecture with a user and device tokens, ensuring everything secured and safe.
IoT devices may run on difficult environments and may even have cellular data plans. With JFrog Connect, you can configure the keepalive between the device and JFrog Connect servers and reduce your data plan in accordance. The client-side has been built to run on low-resources embedded hardware to ensure it doesn't interpret to your application run-time.
In what industries I can use JFrog Connect IoT Device Management?
As for today, JFrog Connect already supports out-of-the-box in any Linux based OS – Debian, Ubuntu, CentOS and Yocto based images as well. In the Real-Time OS field, we support any device that able to work with REST-API, for more information check out the docs.
JFrog Connect customers come from many industries, here is just part of it – smart cities, enterprise in-house management, manufacturing, industrial uses, agriculture, robotics, and consumer products.
How can I start managing my product fleet with JFrog Connect IoT platform?
Register to the platform, open a group and connect your first IoT edge device.
You can connect thousands of devices at once by adding JFrog Connect agent to the OS image, JFrog Connect will automatically recognize each device as a new one based on the device hardware. join JFrog Connect.