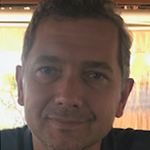 Rimantas (Rimas) Mocevicius
Rimas is an IT professional with over 25 years' experience in DevOps, which includes Linux, containers, Kubernetes, and cloud-native technologies. He is also co-founded Helm – the Kubernetes package manager. He is a Senior DevOps Engineer at JFrog's SaaS DevOps team.
He is also a big fan and supporter of open source software.
The Latest From Rimantas (Rimas) Mocevicius
Best Practices for Migrating to Helm v3 for the Enterprise

At JFrog, we rely on Kubernetes and Helm to orchestrate our systems and keep our workloads running and up-to-date. Our JFrog Cloud services had initially been deployed with Helm v2 and Tillerless plugin for enhanced security, but we have now successfully migrated our many thousands of releases to Helm v3.  Like many SaaS service providers,…

Read More