New Relic Launches JFrog Integration
PRESS RELEASE, March 15, 2023
SAN FRANCISCO – FUTURESTACK – March 15, 2023 – New Relic (NYSE:NEWR), the all-in-one observability platform for every engineer, and JFrog (NASDAQ:FROG), the Liquid Software company and creators of the JFrog Software Supply Chain Platform, announced an integration that gives engineering teams a single point of access to monitor and keep software development operations running efficiently. Using New Relic alongside JFrog provides real-time visibility into CI/CD pipelines, APIs, and web application development workflows, empowering DevOps and security leaders to quickly address software supply chain performance and security issues. The integration is available via New Relic Instant Observability, the largest open ecosystem of integrations with 500+ cloud services, tools, and pre-built resources designed to help every engineer embrace observability as a daily practice.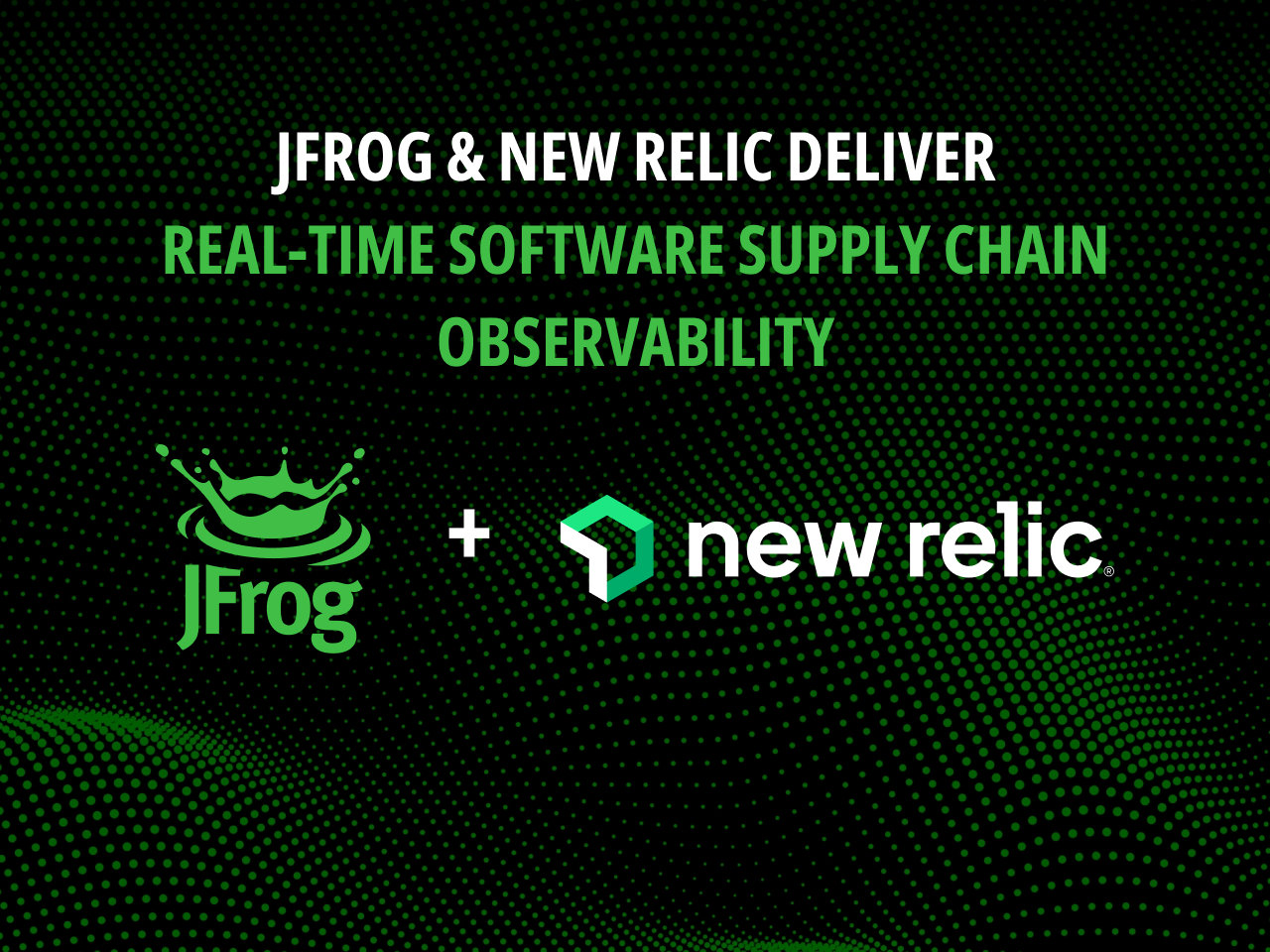 Modern applications depend on hundreds of components, each introducing additional monitoring challenges and security risks. The new integration allows site reliability engineers (SREs), security, and operations teams to consistently monitor the health, security, and usage trends at every stage of the software development life cycle (SDLC). Engineering teams can track key metrics and generate alerts in New Relic to quickly identify any performance degradation, enabling administrators to proactively manage performance, mitigate risks, and remediate issues to ensure optimal uptime in one unified view.
"Today's developers need a 360-degree view of applications to monitor and remediate both performance and security, no matter if they're running on-premises, in the cloud, or at the edge," said Omer Cohen, Executive Vice President of Strategy at JFrog. "Our integration with New Relic gives DevOps, security, and operations teams the real-time insights needed to optimize their software supply chain environment and accelerate time to market."
"Millions of engineers rely on JFrog to improve their software performance and security at every stage of development," said New Relic Vice President of Cloud and Product Partnerships Gal Tunik. "Together with JFrog, New Relic is making it possible for engineering teams to view observability data in tandem with their release pipelines to boost release velocity and quality. New Relic is uniquely committed to an open ecosystem approach to observability and we look forward to deepening our partnership with JFrog over the coming months."
Key benefits include:
Unified visibility and actionable insights: Preconfigured New Relic dashboards provide a comprehensive view of their performance data, artifact usage, and security metrics from JFrog Artifactory and JFrog Xray environments alongside their telemetry data.
Uncover and mitigate vulnerabilities: Identify urgent vulnerabilities, identify malicious users, and allow your teams to deploy fixes faster to deliver more secure software with less risk.
Improved software supply chain performance: Proactively manage performance and remediate issues with actionable log insights, custom queries, and alerting to allow your teams to boost release velocity and quality.
The JFrog log analytics integration with New Relic is available at no additional cost to all New Relic full platform users, and the integration is free for all tiers of self-hosted JFrog customers. To get started, check out the JFrog Platform quickstart for New Relic. For more information about the integration, visit:
About New Relic
As a leader in observability, New Relic empowers engineers with a data-driven approach to planning, building, deploying, and running great software. New Relic delivers the only unified data platform that empowers engineers to get all telemetry—metrics, events, logs, and traces—paired with powerful full stack analysis tools to help engineers do their best work with data, not opinions. Delivered through the industry's first usage-based consumption pricing that's intuitive and predictable, New Relic gives engineers more value for the money by helping improve planning cycle times, change failure rates, release frequency, and mean time to resolution. This helps the world's leading brands including adidas Runtastic, American Red Cross, Australia Post, Banco Inter, Chegg, GoTo Group, Ryanair, Sainsbury's, Signify Health, TopGolf, and World Fuel Services (WFS) improve uptime, reliability, and operational efficiency to deliver exceptional customer experiences that fuel innovation and growth. www.newrelic.com.
About JFrog
JFrog Ltd. (Nasdaq: FROG), is on a mission to create a world of software delivered without friction from developer to device. Driven by a "Liquid Software" vision, the JFrog Software Supply Chain Platform is a single system of record that powers organizations to build, manage, and distribute software quickly and securely, ensuring it is available, traceable, and tamper-proof. The integrated security features also help identify, protect, and remediate against threats and vulnerabilities. JFrog's hybrid, universal, multi-cloud platform is available as both self-hosted and SaaS services across major cloud service providers. Millions of users and 7K+ customers worldwide, including a majority of the FORTUNE 100, depend on JFrog solutions to securely embrace digital transformation. Learn more at www.jfrog.com
Contacts:
Media Contact
Elena Keamy
New Relic, Inc.
Investor Contact
Ingo Friedrichowitz
New Relic, Inc.