Core C++ TLV Meetup Raffle
August 10, 2022
< 1 min read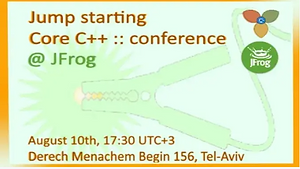 Details
We're excited to announce the last meetup before the CoreC++2022 conference will be hosted in JFrog offices in TLV.
Join this fun ONSITE event to get a taste of our planned conference!
At the end of the meetup, we will have a Show & Tell section, in which YOU will be able to present a short story, slide, or code snippet and share it with others!
17:30 Gathering and socializing
18:00 Welcome notes, Adi Shavit
18:20 Using namespace is bad, use namespace, Yehezkel Bernat
18:40 Personal Log: Where No Init Has Gone Before, Andrei Zissu
19:40 Show and Tell, YOU!