JFrog Expands DevOps in China and Names Industry Veteran Dong Renyuan as GM & Country Manager
PRESS RELEASE, February 27, 2023
BEIJING, February 27, 2023 — JFrog Ltd., the Liquid Software company and creators of the JFrog Software Supply Chain Platform, today announced the appointment of Dong Renyuan as its General Manager and Country Leader for JFrog China.  After joining the team in July, Mr. Renyuan has been responsible for driving the next stage of JFrog's expansion into greater China, leading its go-to-market and product line growth initiatives, sales and customer engagement models, revenue generation strategy, and day-to-day business operations. Additionally, Mr. Renyuan's appointment is accompanied by the opening of new JFrog offices in the heart of Beijing at CapitaMall • Wangjing, No. 33, Guangshun North Street, Chaoyang District, Beijing. 8 layers, 802.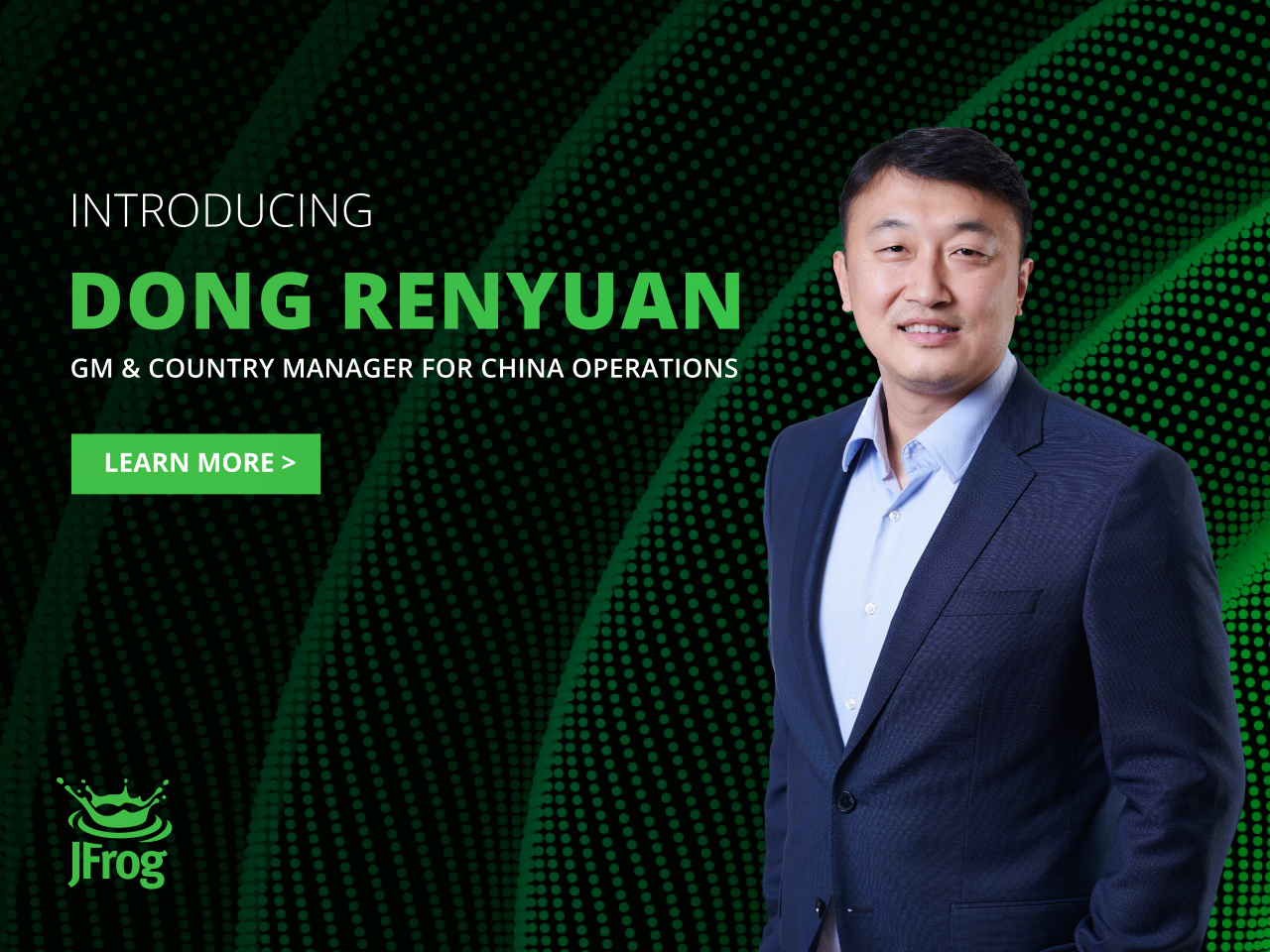 "I'm thrilled to welcome a high-caliber business leader like Dong to the JFrog team and he's already been successful in helping us expand our current success with partners and some of the top businesses in China," said Tali Notman, Chief Revenue Officer, JFrog. "We understand companies succeed due to their ability to innovate faster than their competition, and we are committed to helping them do so by providing powerful DevOps solutions that help enable them to deliver trusted software faster. I'm confident Dong is the right person to drive both our customers and JFrog's DevOps business to the next level."
According to IDC, automation [of business processes] is a top priority for organizations in the Asia/Pacific region, making it an ideal growth market for DevOps and security solutions. Dong's addition to the JFrog China team takes place alongside a few notable company milestones, including being named "most influential company" at the Global Operation Summit, and earning the 2021-2022 Top Brands Award at the 10th annual Cloud Connect China Summit. 
With over 20 years of experience in product management, sales, business and global alliance development, Dong Renyuan brings a deep understanding of the SaaS and cloud markets with a proven record for driving market expansion and revenue growth. Prior to joining JFrog, he was the General Manager of LexisNexis China, responsible for the overall company growth plus the  go-to-market strategy for local and international products. 
Before LexisNexis, Dong was the General Manager of Qt Company in Greater China, where he drove the company's local business strategy and worked with the local ecosystem, doubling revenue within two years.  He also held senior executive positions at Red Hat and Novell where he helped drive the development of Linux open-source and cloud computing standards in China. Dong also served as a board member of Relx Group China. 
"I'm thrilled to join and help lead the incredible team at JFrog in broadening the understanding and use of secure DevOps solutions in China together with our partners," said Dong Renyuan, GM & Country Manager for JFrog China. "Software development is about code, but software delivery is about binaries — we plan to deliver this message to the Chinese DevOps community. The adoption of DevOps is a major trend in China, and as the most innovative player in the industry, JFrog has already established a strong foothold in the Asia/Pacific region, which I look forward to extending to mainland China."
JFrog plans to support its recent growth in China with an increased focus on partnerships and resellers to better serve customers in the region.  Companies and interested partners can also meet members of the JFrog team at upcoming events in Beijing, Shenzhen, and Shanghai.  To learn more about Dong Renyuan and his new role leading JFrog China or visit https://www.jfrogchina.com/. 
###
About JFrog
JFrog Ltd. (Nasdaq: FROG), is on a mission to create a world of software delivered without friction from developer to device. Driven by a "Liquid Software" vision, the JFrog Software Supply Chain Platform is a single system of record that powers organizations to build, manage, and distribute software quickly and securely, ensuring it is available, traceable, and tamper-proof. The integrated security features also help identify, protect, and remediate against threats and vulnerabilities. JFrog's hybrid, universal, multi-cloud platform is available as both self-hosted and SaaS services across major cloud service providers. Millions of users and 7K+ customers worldwide, including a majority of the FORTUNE 100, depend on JFrog solutions to securely embrace digital transformation. Once you leap forward, you won't go back! Learn more at
jfrog.com
and follow us on Twitter:
@jfrog.
Media Contacts:
U.S.:
Siobhan Lyons, Sr. MarComm Manager, JFrog,
siobhanL@jfrog.com
China:
Jian Jiao (Vincent), Sr. Marketing Manager, JFrog, 
jianj@jfrog.com