JFrog Software Supply Chain Platform Delivers 393% ROI According to Total Economic Impact Study
PRESS RELEASE, May 24, 2023
Companies using the JFrog Software Supply Chain Platform saw payback of ~$20M in less than six months through significantly accelerated software delivery, improved automated security, and increased productivity
Sunnyvale, Calif. – May 24, 2023 — JFrog Ltd. ("JFrog") (NASDAQ: FROG), the Liquid Software company and creators of the JFrog Software Supply Chain Platform, today released the findings of a Forrester Consulting Total Economic Impact™(TEI) study, revealing that a composite JFrog customer could achieve a 393% return on investment (ROI) over three years, with potential payback of approximately $20M in less than six months.[1] The Forrester study examines the potential overall economic impact of using the JFrog Software Supply Chain Platform, by creating a composite organization based on a combination of four different JFrog enterprise customers in leading organizations across the financial services, health insurance, and semiconductor industries.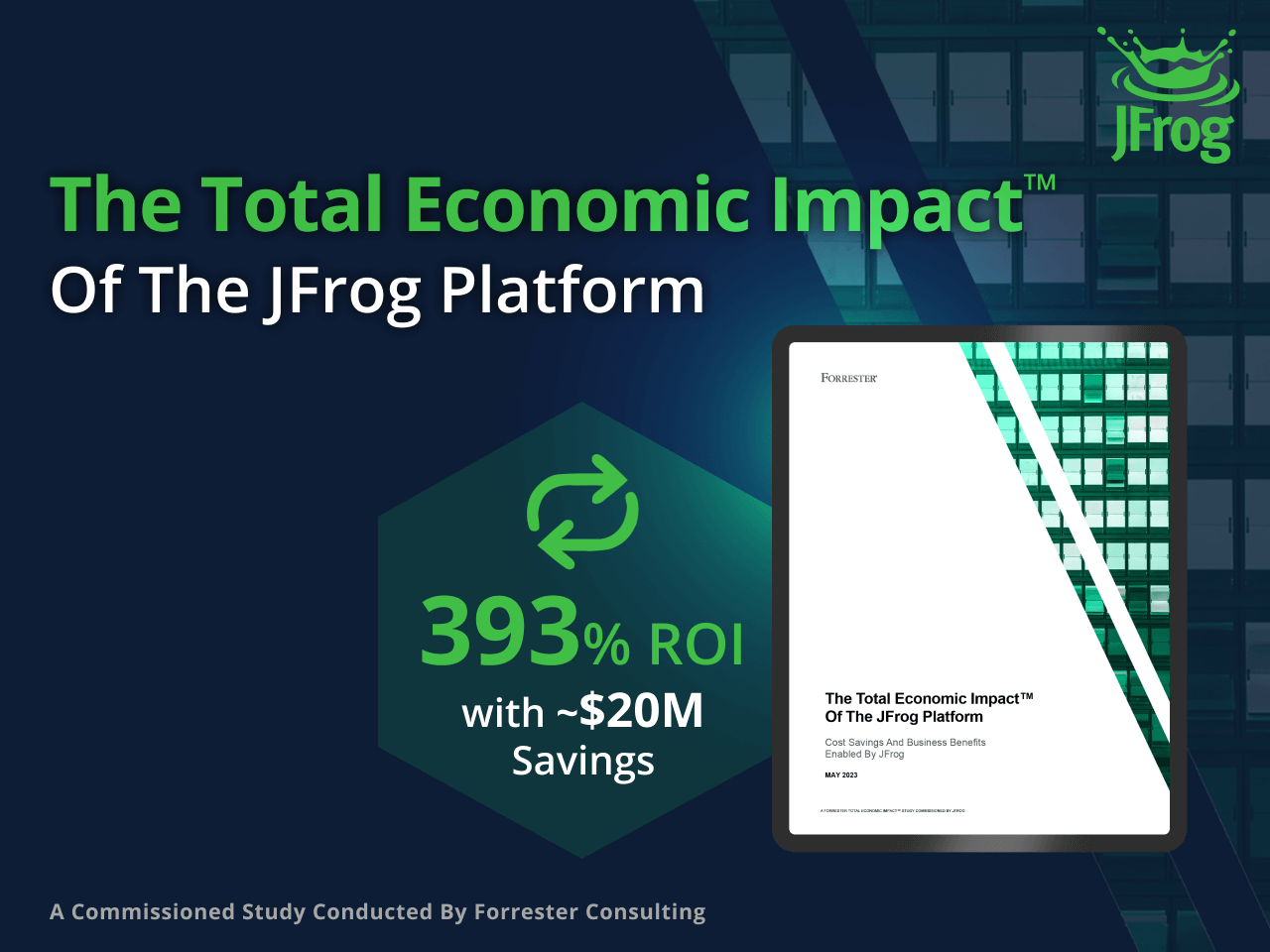 "Nearly everything today runs on software – from our cars and computers to home appliances and mobile devices – effectively making software the critical infrastructure of our daily lives," said Shlomi Ben Haim, Co-Founder and CEO, JFrog. "For this reason, JFrog is committed to helping organizations make Software Supply Chain automation and security an integral part of the development lifecycle so they can reduce time spent on code redesign or vulnerability remediation, accelerate application delivery, and achieve their business and customer satisfaction goals quickly and efficiently."
The growing demand for faster delivery of software services and applications to help businesses better serve customers and gain a competitive advantage has made DevOps and DevSecOps key drivers of notable business outcomes. The JFrog Software Supply Chain Platform empowers DevOps organizations to curate, secure and manage the building blocks required to deliver mission-critical applications at scale on-prem, in the cloud or across multiple clouds.
The cross-industry interviewees for the study detailed how –prior to JFrog–their organizations used a wide array of siloed point solutions that led to high spend associated with identifying and mitigating development problems plus labor-intensive tasks like researching open-source libraries and managing developer support requests.
The Forrester study showed the composite JFrog customer over a three-year period experienced:
Accelerated software delivery with reduced build wait times, worth $13.5 million. JFrog eliminates wait times for developer builds, giving developers back more productive time within the composite organization.
Increased operational efficiency from automated vulnerability and compliance workflows on open-source software, worth $6.7 million. JFrog provides automation that helps streamline the process of exhaustively researching open-source libraries, saving developers hours of research and ensuring that enterprise governance and best practices are followed.
Increased productivity with DevSecOps collaboration, worth $3.4 million. The JFrog Platform helps automate rules for source code, a previously manual and labor-intensive process prone to error and extremely costly to scale. Doing so can help organizations free up developers' time spent on mundane tasks so they can focus on higher-caliber projects, an outcome valued at $3.4 million over three years. Forrester's study also showed Artifactory was able to significantly reduce the number of platform team support calls over three years, valued at $537K.
Reduced number of cloud engineer effort required to manage infrastructure, worth $1.2 million. Using the SaaS version of the JFrog Platform, the composite organization shifts the burden of managing a very large open-source repository and database to the cloud, eliminating the need for extra cloud engineers or maintenance of expensive infrastructure.
For full findings on the Total Economic Impact™ of the JFrog Platform, download the full study.
###
Like this story? Tweet this: New commissioned @forrester Consulting Total Economic Impact study shows @jfrog delivers 393% ROI: http://jfrog.com/tei #SoftwareSupplyChain #DevSecOps #cybersecurity #ROI #Forrester 
About JFrog
JFrog Ltd. (Nasdaq: FROG), is on a mission to create a world of software delivered without friction from developer to device. Driven by a "Liquid Software" vision, the JFrog Software Supply Chain Platform is a single system of record that powers organizations to build, manage, and distribute software quickly and securely, ensuring it is available, traceable, and tamper-proof. The integrated security features also help identify, protect, and remediate against threats and vulnerabilities. JFrog's hybrid, universal, multi-cloud platform is available as both self-hosted and SaaS services across major cloud service providers. Millions of users and 7K+ customers worldwide, including a majority of the FORTUNE 100, depend on JFrog to secure their mission-critical software supply chains. Once you leap forward, you won't go back! Learn more at jfrog.com and follow us on Twitter: @jfrog.
Cautionary Note About Forward-Looking Statements
This press release contains "forward-looking" statements, as that term is defined under the U.S. federal securities laws, including but not limited to statements regarding JFrog's Software Supply Chain Platform and its ability to significantly accelerate software delivery, improve automated security, and increase productivity.
These forward-looking statements are based on our current assumptions, expectations and beliefs and are subject to substantial risks, uncertainties, assumptions and changes in circumstances that may cause JFrog's actual results, performance or achievements to differ materially from those expressed or implied in any forward-looking statement. There are a significant number of factors that could cause actual results, performance or achievements, to differ materially from statements made in this press release, including but not limited to risks detailed in our filings with the Securities and Exchange Commission, including in our annual report on Form 10-K for the year ended December 31, 2022, our quarterly reports on Form 10-Q, and other filings and reports that we may file from time to time with the Securities and Exchange Commission. Forward-looking statements represent our beliefs and assumptions only as of the date of this press release. We disclaim any obligation to update forward-looking statements.
Media Contact:
Siobhan Lyons, Sr. MarComm Manager, JFrog, siobhanL@jfrog.com
Investor Contact:
Jeff Schreiner, VP of Investor Relations, jeffS@jfrog.com
[1] NOTE: ROI is measured in terms of how much the composite customer earns back holistically over a certain time frame vs. payback is how quickly the composite customer recovers their initial monetary investment.