JFrog Launches the First DevOps Platform to Provide Fearless Updates From Code to Production
Press Release, May 17, 2018
The Artifactory creator introduces Enterprise+, the universal software binary platform, to power development that is accelerated, trusted, and secure
NAPA, California, May 17, 2018 /PRNewswire/ — Today at its annual user conference, JFrog, the DevOps technology leader, launched Enterprise+, a universal software binary platform that provides continuous updates for virtually any language and destination. Enterprise+ is optimized to manage the lifecycle of binaries for modern cloud-native applications — including container and serverless — as well as traditional IT applications and can be used for mobile development and IoT devices. It also includes comprehensive analytics and security features to satisfy the demands of modern global technology customers.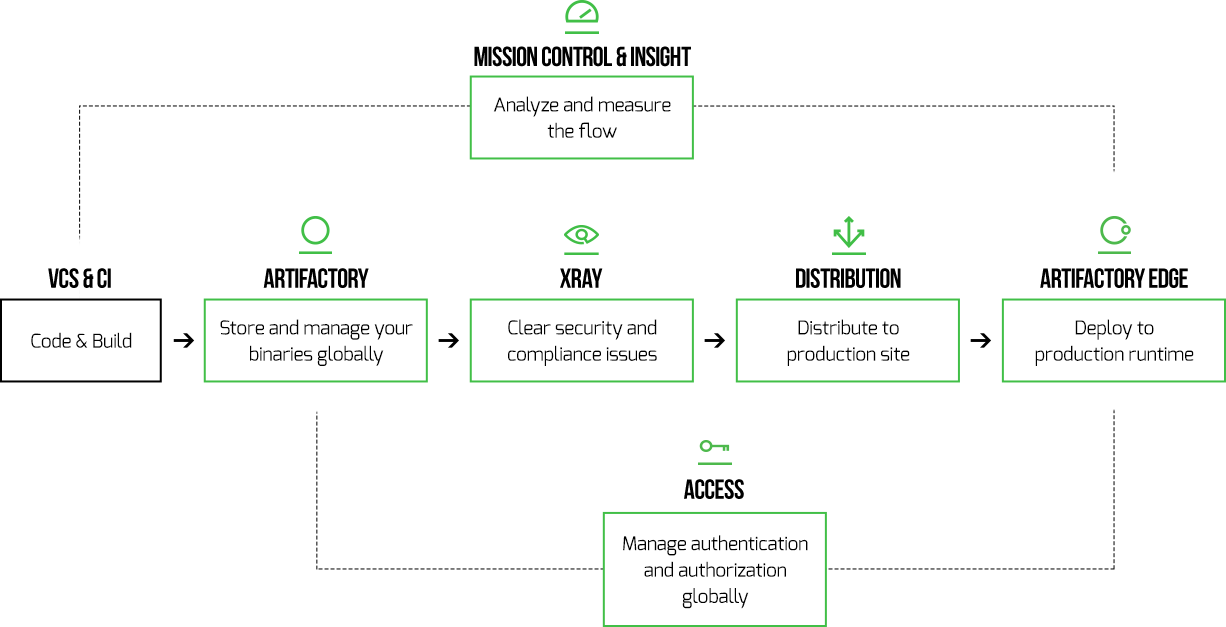 JFrog Enterprise+ accelerates the software release cycle with an end-to-end pipeline for managing and tracing the flow of binary artifacts from code to production deployment. The platform provides a complete solution for covering all the steps involved in creating a secure, trustworthy, and traceable software release in a multi-site development environment.
"Users today have zero tolerance for broken, cumbersome, and slow software updates. We all strive to achieve life without outages," said Shlomi Ben Haim, JFrog CEO and Co-Founder. "Most of the code in today's world is already written, thus the real DevOps challenge is to enable a continuous artifacts flow. JFrog is in the business of fast, automated, and secure software releases, our priority is to aid the next generation of DevOps by furthering Continuous Updates and introducing the world to the vision of Liquid Software. With JFrog's new platform, organizations can now enjoy the power of frictionless updates. Users are able to update the right software component, at the right time, from the right source with zero downtime."
JFrog's Enterprise+ platform offers organizations the ability to gain full control over the storage, promotion, security, and distribution of their binary release to remote endpoints. A unified dashboard provides visibility and measurable analytics throughout the process, alongside integrated authentication and authorization management that delivers global security across different regions.
JFrog platform release included an intensive BETA program with its key customers, such as Citi Bank, Capital One, Fidelity, Ericsson, Apple, Align Software, and others.
"Most large companies have multiple sites and it is critical for those companies to manage authentication and permission efficiently across locations," said Siva Mandadi, DevOps – Autonomous Driving at Mercedes. "JFrog Enterprise+ will provide us with an ideal setup that will allow us to meet our rigorous requirements from the get go. Its advanced capabilities, such as Access Federation, will reduce our overhead by keeping the users, permissions, and groups in-sync between sites."
JFrog Enterprise+ is powered by the best of JFrog offerings with new innovative elements to complete the pipeline of binaries release flow. The solution works in conjunction with source version control, continuous integration, and deployment tools. The JFrog Enterprise+ offering includes:
JFrog Artifactory Binary Repository Manager: Manages artifacts and their dependencies in a highly-available, scalable repository, acting as a universal DevOps database for types of binaries, Artifactory is the de facto Kubernetes Registry for cloud native applications
JFrog Xray: Increases trust in software releases by continuously scanning the binaries, keeping them free of compliance and security vulnerabilities while providing a deep dependency analysis and DevSecOps impact graph
JFrog Distribution (NEW): Empowers DevOps to quickly and reliably distribute immutable software releases to remote sites from deployment to production, and to verify the authenticity of a release
JFrog Artifactory Edge (NEW): Works together with JFrog Distribution to accelerate the distribution of production binaries to remote sites by creating a CDN-like, secure network of edge nodes that can be located in close proximity to runtime consumers of the binaries
JFrog Mission Control: Offers a DevOps dashboard with a bird's-eye view and configuration capabilities to connect all other JFrog's products and automate the release flow
JFrog Insight (NEW): Exposes metrics and analytics of the software release flow, from the code repository to the deployment and orchestration tool, to improve time-to-market and measurable ROI
JFrog Access Federation (NEW): Provides cross-product, global management for users, groups, API tokens, and permissions, with built-in support for multi-site topologies, JFrog Access enhancement with the Federation eases the admin scaling to a multisite topology authentications and permissions
To learn more visit:
https://jfrog.com/platform/
https://jfrog.com/blog/leap-into-the-universe-of-fearless-updates/
About JFrog the "Database of DevOps"
With more than 4,000 customers and over 3 billion downloads per month on its binaries hub, JFrog is the leading universal solution for the management and distribution of software binaries. JFrog's four products, JFrog Artifactory, the Universal Artifact Repository; JFrog Bintray, the Universal Distribution Platform; JFrog Mission Control, for Universal DevOps Flow Management; and JFrog Xray, Universal Component Analyzer, are used by Dev and DevOps engineers worldwide and are available as open-source, on-premise, and SaaS cloud solutions. Customers include some of the world's top brands, such as Amazon, Citi Bank, Credit Suisse, Google, Facebook, Uber, Netflix, Twitter, Adobe, VMware, Slack, and Spotify. The company is privately held and operated from the United States, Israel, India, China, and France. More information can be found at jfrog.com.
JFrog Media Contact:
Lauren Perry
Blonde 2.0 for JFrog
Lauren@blonde20.com
+1-617-686-5924