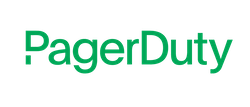 Faster Response with Real-Time Operations
GO FROM
DREAM TO DONE
Benefits of Xray Integration with PagerDuty. Proactively manage security and compliance across your entire software development and release lifecycle by configuring granular policies and receiving continuous updates on impacted components through customized notifications. Using PagerDuty for Security Ops, security teams can leverage the same reliable platform that development and operations teams already depend on, improving cross-team visibility and reduce friction for collaboration.
The PagerDuty Platform Overview
An always-on world requires a proactive and preventative platform to manage interruptions for you and your teams. PagerDuty's platform is the 'central nervous system' for your digital ecosystem and uses automation and machine learning to help you address and resolve issues before they disrupt your business. It gives you constant visibility into your critical apps and is organized around the services you care most about. PagerDuty is 'always on' so you don't have to be. It ensures you're never caught off guard by continuously collecting data from any source, interpreting those signals—precisely engaging you and the right team members while accelerating resolution and learning.
COMPATIBLE WITH
JFROG PRODUCTS

Real-time Operations and

Incident Response with PagerDuty